The Food Hygiene and Safety Department under the Ministry of Health conducted checks of 27 dry fruit processing facilities in Hanoi on May 18, and penalised 14 of them for violating safety regulations and seized two tonnes of salted dry fruits that were unmarked.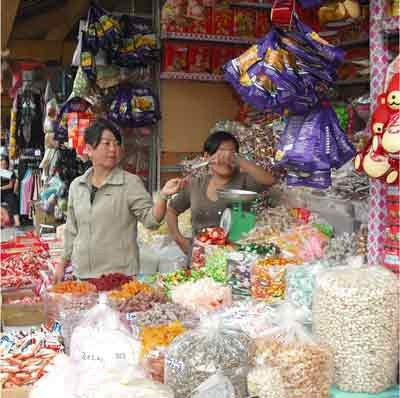 Dried fruits and jams displayed at Binh Tay Market in Ho Chi Minh City (Photo: SGGP)
Inspectors penalised 11 units with VND54.5 million fine, for keeping products that were not labelled and had no markings showing their place of origin. They also destroyed 26 kilograms of unsafe salted and sugared dry fruits and seized two tonnes of unmarked salted dry fruits.
The Institute of Hygiene and Public Health in Ho Chi Minh City was sent ten samples of the unmarked salted dry fruits which were found to contain cyclamate, saccharin and high levels of lead.

These chemicals are said to be toxic and intake of them can cause damage to the nervous system and kidneys, impair brain function, and in extreme cases even lead to death, said an institute representative.
Last year, the HCMC Department of Health had conducted random tests on 30 dried fruit samples and results showed that 28 samples contained excessive amounts of lead while nine samples contained a banned artificial sweetener.
In related news, the Food Hygiene and Safety Department confirmed they have not yet found the 'Trifluralin' antibiotic in fish samples taken from markets in HCMC. The department had taken 30 samples, which all tested negative for Trifluralin.
'Trifluralin' is a poisonous substance which can cause cancer, deformities and mental diseases, said Tran Dinh Vinh, director of the department.

So far, he said there was no need for any public concern.