The Hanoi People's Committee has approved a pilot programme that will utilise software and automation technology to manage public parking zones in the city.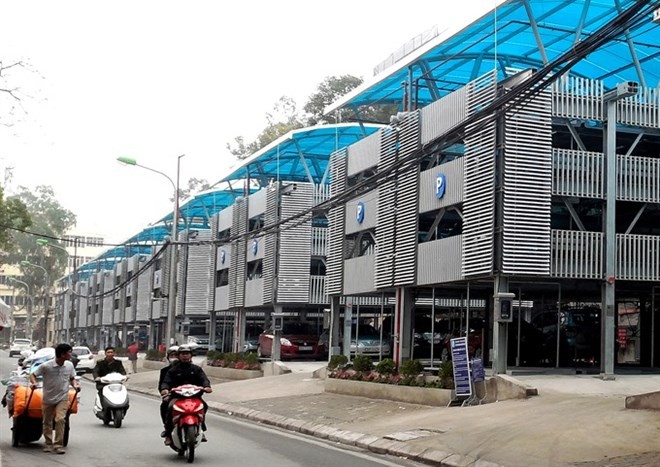 A multi-storey car park in H​ano​i (Photo: VNA)
The plan, developed and implemented by the Hanoi Car Park Exploitation Company, includes the digital mapping of car parking areas in the city, the use of management software, and the installation of cameras to record vehicle registration plates at car parking areas, the Committee said recently.
All information relating to car parks will be available online, and car owners will be able to find and book parking spaces in advance on devices such as smart phones and tablets.
The 'smart technology' behind the system will enable vehicle owners to park their cars without help from parking staff. A parking sensor will be installed on the roads or in speed bumps to automatically measure the cars' size and parking time in order to determine the parking fee. Parking staff will then be able to collect the fees from car owners.
The company will pilot the project at two car parking zones, including one on Tran Nhat Duat in Hoan Kiem District or Nguyen Cong Hoan Street in Ba Dinh District, and one on Tran Hung Dao Street.
The company was asked to study and develop the plan last September, with the aim of using computers to improve traffic management, ultimately turning Hanoi into a smart city.
Deputy Director of the company, Pham Van Duc, told Kinh te & Do thi (Economy and Urban Areas) that the project is expected to improve the efficiency of State management over parking areas and benefit local residents.
Car parking in Hanoi suffers from significant confusion at present, causing difficulties for traffic management. Car owners often struggle to find suitable parking spaces, and have to pay high fees, he said.
With the new technology, all public parking zones will be automated, from parking times to fee collection, improving conditions for car owners and management efficiency, he said.
However, he said, the project implementation would encounter some challenges. Each parking area is granted permission to operate for between three and six months, while it would cost between 50-60 million VND (2,200-2,600 USD) to invest in the new technology, excluding land leasing fees for the parking areas.
"If each parking area is not permitted to operate for a longer period, a minimum of five years, it will be difficult for the company to recover their investment capital," he said.
Also, at present, there is no authorised agency in charge of managing all parking zones in the city. Parking areas are currently managed by different agencies. For example, some parking areas are managed by the municipal Department of Transport while some are managed by authorities of local districts.
The company will review the project and report on its implementation to city authorities, who will determine whether it's worth continuing, he said.