Hanoi citizens would like to see National Assembly (NA) delegates contribute more constructive ideas at NA sessions and follow through with them, heard a meeting in Hanoi October 14.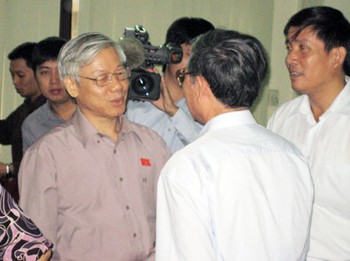 National Assembly Chairman Nguyen Phu Trong (1st, L) meets with residents in Hanoi October 14 (Photo: vovnews)
Expressing their opinions in Ba Dinh and Cau Giay districts during a meeting with National Assembly (NA) Chairman Nguyen Phu Trong ahead of the 6th session of the 12th National Assembly, they demanded delegates find efficient solutions to problems. All too often, issues are left unresolved, said attendees.
Residents also complained that the quality of education in the country is not up to par, inner-city schools are facing a dearth of available space, and many wards lack primary schools.
Chairman Trong thanked attendees for expressing their opinions and said the delegates would strive to improve. At each session, the Government aims to report back on solutions to previously discussed topics, he added.
In the future, economic and social issues that are raised will be regularly reported to the NA's Nationality Council and committees, Mr Trong said.