Thousands of Hanoians on December 31 flocked to the downtown of the capital to engage in various art and cultural activities to welcome the New Year 2017.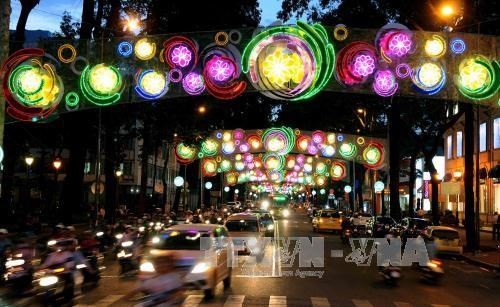 Hanoi streets were splendidly decorated (Illustrative image. Source: VNA)
Large crowds gathered at Ho Guom (the Sword Lake), a favourite location for Hanoi residents to celebrate the New Year's Eve, at the sacred moment of transferring from the old year to the new one with a lot of wishes for luck and peace.
To prepare for the big occasion, local workers had been busy cleaning up and decorating streets for many days before.
Stages were set up at popular places such as Dong Kinh Nghia Thuc Square (at Hoan Kiem Lake fountain) and Thien Quang Lake for the countdown programmes, while main streets in the city were lit up with colourful light illumination.
Tran Viet Hung, a third-year student at Vietnam University of Commerce, shared his excitement to welcome the New Year in Hanoi.
He said "It is a regret not to have fireworks this year. However, I think cancelling firework show is a right decision since many people in our country need support. Without fireworks, I can still share the New Year joy with my friend in various ways."
This year, Hanoi and some other localities nationwide did not set off fireworks; nevertheless, such activities as music shows and countdown parties attracted a lot of people.
Pham Ha Phuong, an overseas Vietnamese student in the US, could not hide her happiness and exhilaration to return home for the New Year celebration.
She said she was surprised at the positive changes of Hanoi and wished the capital would become stronger and gain more accomplishments in the future.
Meanwhile, thousands of people in the Mekong Delta city of Can Tho streamed down streets to join celebratory activities, including an art performance at Luu Huu Phuoc Park in Ninh Kieu district.
Despite the long-lasting rain, locals from the central city of Da Nang still got engaged in a countdown party on December 31 to ring in the New Year.