Hanoi is currently focused on developing a network of road flyovers across the city so as to ease the growing traffic congestion which is worsening day by day, what with an ever increasing population and a surge in the number of vehicles.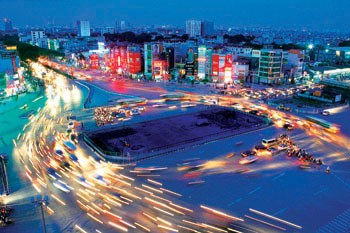 Nguyen Van Troi roundabout, the largest traffic-circle in Hanoi (Photo: SGGP)
Hanoi's population density is presently estimated at 1,979 persons per square kilometre; with the most intensely crowded district being Dong Da, with 35,341 persons per square kilometre.
More than 4,215,000 vehicles ply across the city streets daily, which includes about 380,000 automobiles and over 3.8 million motorcycles.
This constant surge in the number of vehicles makes the task of traffic planning ever more difficult for city authorities, with several of the city roads congesting as soon as they open for traffic.
Le Thi Nga, deputy chairwoman of the National Assembly Law Committee said that traffic jams are now serious obstructions.
The project to build flyovers across the city was put forward as late as 2010 and fortunately received approval of city authorities, who had recently tasked the Department of Transport to study the possibility of constructing flyovers as an option to fight traffic congestion.
 
As per the project proposed by the Transport Engineering Design Incorporated Company (TEDI) under the Ministry of Transport, Hanoi will build six flyovers, covering a length of 50 kilometres over the city's worst congested routes by 2020. The total cost of the flyover project is estimated at VND70 trillion (US$3.3 billion).
Construction of the first flyover broke ground in June 2010. The 9 kilometre route connecting Mai Dich Intersection in Cau Giay District to Northern Linh Dam in Hoang Mai District is scheduled for   completion by end 2013.
According to the Hanoi People's Committee, the second phase of the project from Vinh Tuy to So Crossroad will begin construction early this year.
Besides road flyovers, Hanoi is planning to develop eight urban metro rail routes over a 284 kilometre stretch; five of which have already been approved by the Government. The metro system is expected to meet 35-45 percent of commuter demand in the city.
The first route beginning from Nhon-Hanoi Station began construction in September 2010 and is expected to be complete by 2016 at a total cost of US$1.53 billion.
The second route from Cat Linh-Ha Dong broke ground in October last year. It is scheduled to complete by 2015 and will become the first urban flyover rail metro to operate in Hanoi.
Both the above routes will transport 50,000 passengers per hour and take 20 minutes at the maximum to travel from one end to the other.
According to the Department of Transport, Hanoi will construct two more urban railway tracks by 2013, namely the Yen Vien-Ngoc Hoi and the Tran Hung Dao-Southern Thang Long routes. They are both expected to open for traffic by 2017 with capacity to transport 37,000 passengers per hour.