Hanoi is planning a massive 5.5 billion USD expansion project for Noi Bai Airport to brace against overloading that is expected in just a few years, said an official.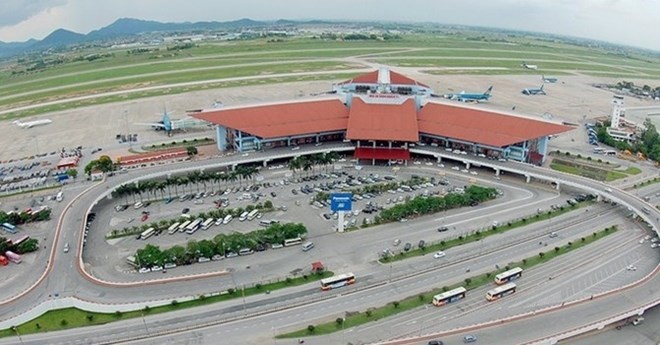 Noi Bai Airport (Source: english.vietnamnet.vn)
In an interview with the Government online newspaper (VGP News) published May 30, Civil Aviation Authority of Vietnam (CAAV) Head Lai Xuan Thanh said that a "Noi Bai 2" airport was planned on a 720ha site across from the current one.
Land clearance costs and expenses to build resettlement apartments for local residents who have to move because of the project reached about 2 billion USD, according to Thanh.
Authorities estimated another 78 trillion VND (3.46 billion USD) will be spent on the new airport infrastructure including the terminals, taxiing lanes and parking areas.
Thanh said that expansion work on the airport was "urgent" as Noi Bai was bound to fall into a serious overcrowding situation like the current HCM City's Tan Son Nhat Airport in as little as three years.
"Noi Bai airport has been experiencing tremendous growth, reaching 22 percent in 2015 and already climbing to 31 percent in the first four months of this year", he said.
Such growth was not due to lose steam in the near future as the International Air Transport Association (IATA) projected Vietnam to be the 10th fastest-growing market in terms of additional passengers by 2034.
Over the last decade, air transport in Vietnam has seen remarkable growth due to a constant rise in the wealth of the middle-class, who now can afford more plane tickets, as well as a diverse airliner pool with a number of budget carriers. Local Vietjet Air, Thailand's Nok Air and Malaysia's AirAsia have expanded their operations and are opening new air routes in the country.
An increasing number of Vietnamese now have a chance to experience the services that once used to be luxurious, however authorities and airliners have been struggling to meet the industry's demands as airport infrastructure fails to catch up with the booming growth.
Tan Son Nhat Airport - the biggest airport in the southern region - last year received more than 26.5 million passengers, already surpassing the capacity initially planned for 2020, according to the CAAV.
Vietnam Airlines Corporation – which owns the flag-carrier Vietnam Airlines – has even projected that the number of passengers Tan Son Nhat airport will welcome in 2018 is likely to reach 40 million, the assumed capacity cap of the airport that is very hard to raise.
Meanwhile, the new 16 billion USD Long Thanh airport aims to alleviate airport overcrowding but will not begin operations until 2025 – nine years from now if no delays take place.
Second Long Thanh
Thanh called the Noi Bai expansion project the "second Long Thanh" but would face even more difficulties due to land shortage.
The Noi Bai 2 airport would stretch to the south across three communes of Phu Minh, Phu Cuong and Mai Dinh of the Soc Son District, which has a high population density, he said.
Yet that was the only option that would leave enough land to build the new terminal and ensure having independent runways in line with the Hanoi general transport plan by 2030, approved by the Prime Minister in March.
"The land clearance work will be very hard," Thanh warned.
According to the general transport plan, Noi Bai Airport will be able to receive 35 million passengers a year by 2030 and up to 50 million after 2030.
Its new terminal, T2, was opened last January for international flights, helping in the short-term to tackle the overloading issue that is expected to continue for some time.