Prime Minister Nguyen Tan Dung recently asked Hanoi People's Committee to research the possibility of establishing a new quarter, including 36 new streets named after various national capitals from around the world.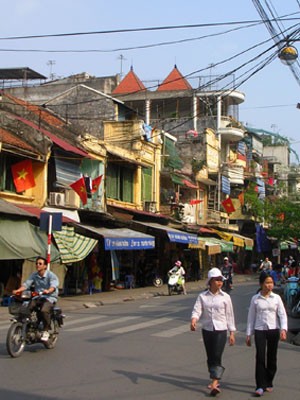 A view of Hanoi old quarter
Each street will have architectural features of each country that it is named for that country's capital.
To Anh Tuan, director of the Hanoi's Department of Planning and Architecture, said establishing a new quarter with the names of capitols needs precautions and base decisions on diplomatic and economic relations between Vietnam and other countries.
Hanoi is widely known for its old quarter, often referred to as the 36 old streets, which covers 100 hectares in Hoan Kiem District – the capitol's center.
Last year, the Government approved a plan to expand Hanoi.
The whole of Red River Delta Province of Ha Tay which is was merged into Hanoi.
Some districts form northern provinces of Vinh Phuc and Hoa Binh were also added to the capitall's territory.

Once the project is completed, Hanoi will cover 334,470 hectares and have a population of around 6.2 million people. The resolution was put into effect on August 1, 2008.