Delegates from the Asian Network of Major Cities in the 21 st century (ANMC21) will gather at a plenary meeting in Hanoi from November 17-19 to strengthen their cooperation.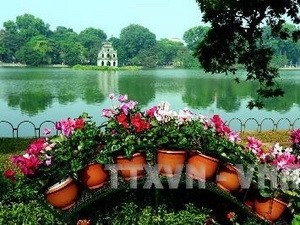 (Photo:VNA)
The network groups 12 members from Tokyo (Japan), Seoul (the Republic of Korea), Singapore (Singapore), Taipei (China), New Delhi (India), Kuala Lumpur (Malaysia), Jakarta (Indonesia), Manila (the Philippines), Yangon (Myanmar), Ulaanbaatar (Mongolia), Tomsk (Russia) and Hanoi (Vietnam).
A wide range of activities will be held during the event, including a child painting exhibition featuring a future city and life in the next 100 years, along with an exhibition on trade, investment and tourism for businesses to seek cooperation opportunities in the field.
The Hanoi Department of Culture, Sports and Tourism will use this occasion to introduce the "Welcome to Asia" campaign launched by the Council for Promotion of Tourism in Asia (CPTA) to promote tourism in the capital.
Art performances and art exchange programmes will be made available as part of the event.
The ANMC21 was established in August 2000 with the aim of calling upon major cities in Asia to form an international framework to boost cooperation through mass joint projects.
A similar event took place in Hanoi last October to form a sustainable cooperation network regarding public health to control and prevent infectious diseases in the region.