A job fair for disabled people will be held in Hanoi on November 30 to mark the International Day for People with Disabilities on December 3.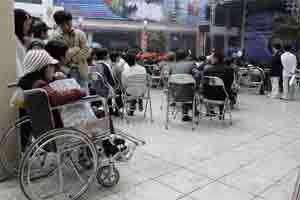 Disabled people at a job fair in Ha Noi
Thirty enterprises will attend the fair to offer jobs to the disabled.

The fair will also feature exhibits showcasing products made by handicapped people and the various services they offer.

Some 2,000 people with disabilities are expected to attend the fair, which is being organized by the National Coordinating Committee on Disability of Vietnam (NCCD) and the Hanoi Association of People with Disabilities.

The Disabled People's International Asia–Pacific Region (DPI/AP) has announced Hanoi's first independent living centers for people with disabilities will being operating in February next year. The DPI/AP and the Hanoi Association of People with Disabilities are supporting the group "For a Bright Future", which is building the centers over the next three years.