At a four day meeting of the 5th session of the People's Council in Hanoi that ended Friday, a plan to develop and upgrade the traffic system in the capital at an investment of US$55 billion was approved by council members.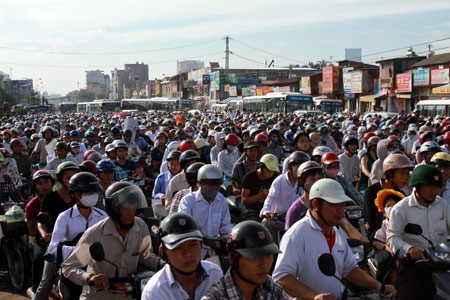 Traffic congestion near Dien Bridge in Hanoi (Photo: QĐND)
Hanoi will spend upto VND1,145 trillion ($55 billion) to develop and upgrade the traffic system in the four areas covering roads, waterways, railways and airways by 2030 with a vision for 2050.
The capital will construct nine expressways with 6-8 lanes each to run parallel with the existing highways and will upgrade nine radial highways and build two belt roads No.4 and 5.
Other than these, 16 roads over the Red River, eight over Duong River and three over Da River will also be built.
Existing airports will be upgraded and a second international airport in the region will be built in Tien Lang District of Hai Phong City.
At the meeting, the People's Council also approved a program to reduce traffic jams during the period 2012-2015.
A total of VND1.944 billion ($93 million) will be spent to improve the traffic system in Hanoi. The program aims to reduce 40 percent of crucial traffic jam spots and prevent new spots from developing.