Ha Noi must accord urgent priority to keep its dykes and other embankments safe, People's Committee Chairman Nguyen The Thao said at the meeting yesterday with leaders of the capital city's districts.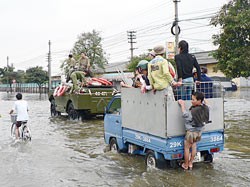 A military vehicle tows a van out of the flooded area (Photo: SGGP)
The chairman had earlier inspected the drainage systems at My Dinh and Tu Liem districts and the consolidation work on Lien Tri embankment, which had a 200 meters section seriously damaged. Construction firms have used 30,000 cu.m of bricks to reinforce the base of the embankment.
Thao ordered all concerned agencies to mobilize all resources to complete the consolidation and continue to protect the vital embankment.
Tran Xuan Viet, director of the Ha Noi Department of Agriculture and Rural Development, confirmed that all the dykes in the capital have been placed under close monitoring and are being maintained in safe conditions.
As of yesterday evening, 23 areas in the inner capital remained flooded at heights of 0.2 – 0.5 meter, and even one meter in a few areas, authorities reported.
The Ha Noi Department of Education and Training yesterday announced a list of 720 schools that have to remain closed today and tomorrow pending further receding of the flood waters. More than 70 schools in heavily-flooded areas will have to remain closed until next week.
Relief activities continued apace in the capital city, with food, medicines, drinking water, etc. being provided to flood victims.
The Ha Noi Finance Department is coordinating with district authorities to carry out a relief plan under which 15 kg of rice will be offered to each flood victim for one to three months along with cash donations. The spending on this plan will be covered by the social security fund of the capital.
Meanwhile, the capital city's Health Department director Le Anh Tuan has warned that diseases such as cholera, dysentery, typhoid, dengue fever and red eyes may spread wider as a consequence of the floods that hit the city and its surrounding areas last week. Residents will be vaccinated against cholera and typhoid, the department said.
The department also warned that the city's water source may be contaminated, and recommended residents to decontaminate drinking water by using 15 gram of Chloramine B to mix with a liter of water about one hour before use.
In Phu Tho province, a section of the Bua River dyke was breached due to a sharp rise in Red River waters along with heavy rains, said Pham Ngoc Thuoc, director of the provincial Department of Agriculture and Rural Development. About 100 ha of crops and 50 houses in Tam Nong district were flooded in the incident, he said. Repairs are being done, he added.

In Ninh Binh Province, many major traffic routes were still submerged seriously, especially roads 447 and 478, causing many obstacles to relief activities and goods transportation, said Pham Minh Cuong, deputy director of the provincial Department of Transport and Communication.
As of Tuesday evening, at least 66 people have been killed and missing in the flooding in northern provinces, the National Steering Committee for Storm and Flood Control said. More than 123,000 houses have been damaged or collapsed, and over 256,000 ha of crops and 27,000 ha of aqua farms have been seriously damaged.
Hanoi needs master plan for disaster management, PM says
Urgent measures needed to cope with natural disasters were discussed at a meeting yesterday between Prime Minister Nguyen Tan Dung, ministries and Ha Noi authorities.
PM Dung ordered the National Steering Committee for Storm and Flood Control, ministries and agencies concerned to prepare master plans to cope with natural disasters, particularly to protect dyke and embankment systems in Ha Noi and other northern provinces.
The PM also ordered Electric of Vietnam to regulate the volume of water contained in reservoirs used by hydropower plants. The Defense Ministry must arrange forces to take part in protecting dykes and embankments and in rescue and evacuation activities when needed, the PM said.
The Ministry of Trade and Industry must ensure the supply of goods and prevent a rise in prices of essential goods, while the Health Ministry must strengthen measures to prevent water-borne diseases, said the PM.