Hanoi University of Technology held a ceremony, attended by Deputy President Truong My Hoa on April 26, 2006, to receive the title "Hero of Armed Forces" for its outstanding contribution in the Nation's Liberation War
Established in 1956, Hanoi University of Technology has been training nearly 80,000 technicians and engineers including 356 PhDs, 2,143 masters and lots of officials.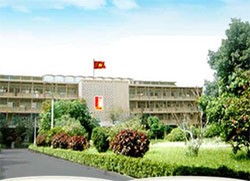 Hanoi Unversity of Technology
In the years of war, HUT run 8 courses (from course 9 to course 16) with 7,366 graduates. To response to the nation's liberation call, nearly 200 lecturers and 2,700 students had been taking part in the army.
Over 100 missions of lecturers and students working in 16 ministries, head departments and 80 central and local factories, contributed to repairing the war damages, ensuring the traffic and stabilizing production during the war.