Working with local authorities to inspect the city's implementation of resolutions of the 10th National Party Congress and the municipal Party Committee's 14th Congress, General Secretary Nong Duc Manh has urged Hanoi to make full use of its potential and advantages to boost its socio-economic development.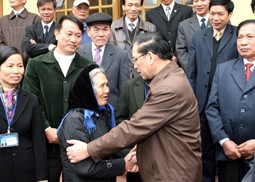 General Secretary Nong Duc Manh talks with the people of Hanoi
Hanoi should try to retain its high economic growth (12% and more), pay attention to developing those industrial sectors with advantages, combine economic growth with economic restructuring and human development, and realise social advancement and equality through its development guidelines and policies, Mr Manh said.
He called on the municipal Party Committee to focus on improving its leadership capacity, to continue its renovation process and to uphold the strength of a great national unity.
He added that each Party committee and member should pay careful attention to their full capacity, and to increase the efficiency of Party activities.
The Party leader also recommended that the municipal Party Committee concentrate on ensuring political stability and social security and order, boost administrative reform and make good preparations for the success of international integration.