Party General Secretary Nguyen Phu Trong met with voters in Hoan Kiem and Tay Ho districts, Hanoi, on Oct. 1 to hear their opinions and complaints ahead of the second session of the 13th National Assembly.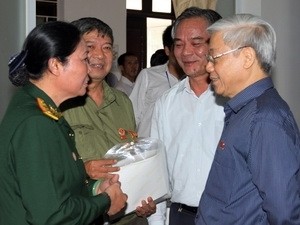 Party General Secretary Nguyen Phu Trong (R) meets with voters in Nhat Tan ward, Tay Ho District, Hanoi October 1, 2011 (Photo: Vietnam News Agency)
At the meeting, voters expressed their opinions, aspirations and recommendations to the National Assembly. The opinions focused on shortage of kindergartens, plans for the construction of schools, equipment for schools, policies and conditions for those who work at the Fatherland Front and mass organisations at grassroots level.
Party General Secretary Trong acknowledged and thanked the voters for recommendations and opinions.
Regarding the voters' interests in on socio-economic issues, he affirmed efforts to pursue the implementation of the Politburo's Direction 02 and the Government's Resolution 11/CP on curbing inflation, maintaining macro-economic stability and ensuring social security.
The Party leader agreed with the voters' opinions on the need to reform law-making work in the direction of improving quality and ensuring the implementation of laws, to raise the efficiency of supreme supervision of the National Assembly, particularly overseeing the enforcement of laws and urgent socio-economic issues.