Among the 261 Vietnamese workers working in Jordan, 176 are still on strike, 85 have returned to work, reported Mr. Tran Viet Tu, Vietnamese minister counsellor to Cairo, who has been assigned to Jordan to settle the recent labor dispute between Vietnamese workers and an Arabic Company there.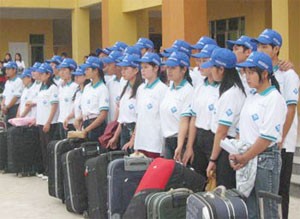 Vietnamese workers set off on a trip to work abroad (Photo: VNExpress)
Accoding to Mr. Tu, the workers on strike have admitted to throwing clothes and other personal belongings of workers who did not take part in the strike into the restrooms.
At present, one worker has a fever and is resting in bed at the factory another has a stomachache.
Mr. Tu added that other workers have bruises on their bodies. It is suspected that these workers may have been injured in a clash with the police.
According to Mr. Nguyen Thanh Hoa, Deputy Minister of Labor, War Invalids and Social Welfare, the strike was triggered by some Vietnamese workers who did not fully understand the company's salary and wage policies. These workers incited others to go on strike when they found that their wages were suddenly less than normal.
Mr. Hoa, pointed out that according to the terms and conditions of the labor contracts between the Vietnamese workers and the Arabian company, the workers are only entitled to daily wages for their first three months of work. Thereafter, they are to be paid based on their labor productivity.
Due to their low productivity, some workers receiving low wages incited others to go on strike. They also provoked the workers who did not participate in the strike, resulting in a conflict between the two groups of Vietnamese workers.
Mr. Hoa also emphasized that at present there is not enough information to determine whether or not some Vietnamese workers had been beaten by the police.
Hoa stressed that the Vietnamese Government's view is to protect the legitimate rights and interests of Vietnamese workers. He also added, on the other hand, that further investigations by the relevant authorities are needed before determining the cause or before reaching a conclusion to the dispute.
Meanwhile, any worker who wishes to stay in Jordan to continue working will be allowed to do so. For workers who wish to leave their jobs, the government will assist their return as soon as possible. Those who induced or incited others to go on strike will be charged and subject to disciplinary measures, added Hoa.
Related article:
Vietnamese Workers in Jordan Shout for Help