In the ceremony to mark the 70th anniversary of August Revolution (August 19th, 1945- 2015) and National Day of Vietnam (September 2nd, 1945- 2015) Ho Chi Minh City was awarded Ho Chi Minh Medal for its outstanding achievements and contributions in country building and development.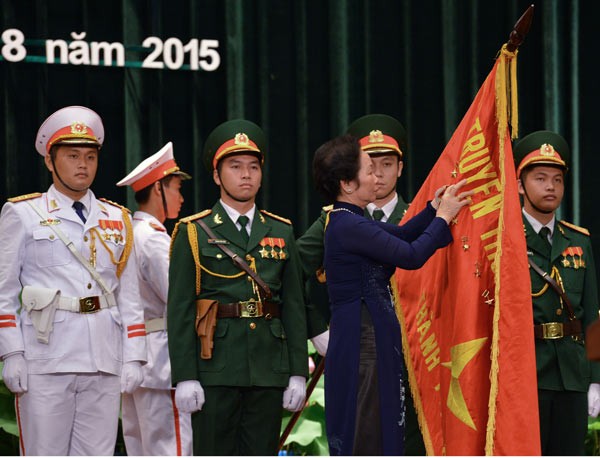 Vice President Nguyen Thi Doan attaches the Order of Ho Chi Minh on the city's Traditional Flag.(Photo:SGGP)
On behalf of the Vietnamese Party and State, Vice President Nguyen Thi Doan attached the Order of Ho Chi Minh on the city's Traditional Flag.

The Order of Ho Chi Minh is the second highest national order of the country, after the Gold Star. This is the first time that the city is awarded the Order of Ho Chi Minh. The city has been awarded the highest national Gold Star Order for two times, presented Hero Tittle for two times, one in the wars against foreign invaders and the second in the country construction and development.

In his opening speech, city Chairman Le Hoang Quan appreciated achievements of HCMC authorities and people in the past time for protecting revolutionary achievements, political stability, and economic development.

The city economic growth rate in 1976- 1985 reached 2.7 percent per year. In 1986, the growth rate reached 10- 12 percent per year, recorded a 1 .5-fold increase compared to the whole country GDP.

Currently, HCMC's growth rate contributes 21 percent of country GDP, makes up 20 percent of Vietnam's export turnover. Moreover, the city is the country's largest economic hub, attracting Foreign Direct Investment with US$ 39 billion.

HCMC always pays attention to promoting social welfare. As a result, GPD per capita in the city reached US$ 5, 131 in 2014.

In upcoming years, city leaders and citizens will focus on exploiting potentialities for economic development, strengthening environment control and protection, urban restructuring, dealing with climate exchange, added Chairman Quan.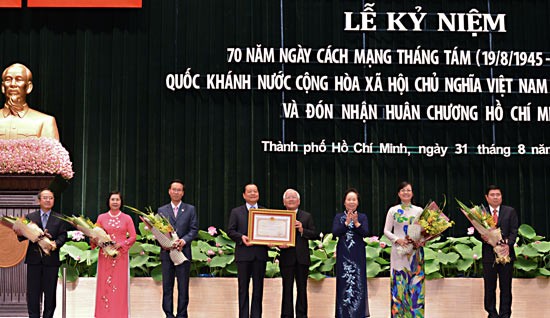 (Photo:SGGP)