Chairman of the Ho Chi Minh City People's Committee Nguyen Thanh Phong has sought support for developing start-up incubators from Israel, which is viewed as the start-up nation.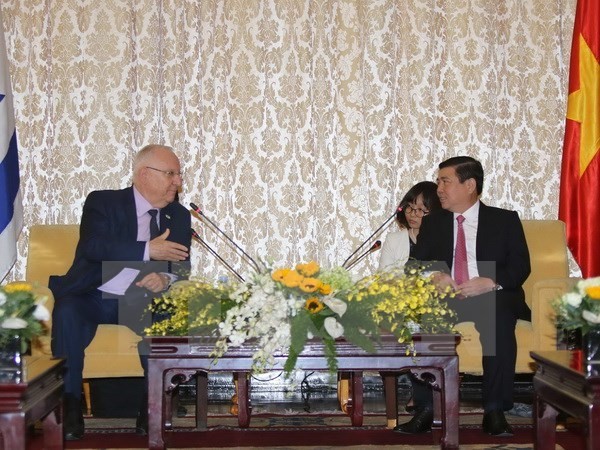 Chairman of the Ho Chi Minh City People's Committee Nguyen Thanh Phong (R) and President of Israel Reuven Ruvi Rivlin (Source: VNA)
During a meeting with President of Israel Reuven Ruvi Rivlin in Ho Chi Minh City on March 23, Phong spoke highly of Israel's technical expertise and management capacity in hi-tech agriculture and other projects underway in the city.
He wished that Israeli businesses would continue partnering with Ho Chi Minh City in fields of Israel's strengths such as farming, information technology, tourism, and personnel training.
The host asked the Middle East country to continue providing scholarships for local management officials to improve their capacity in the fields of agriculture, environment, rural reconstruction, economy and education, among others.
Ruvi Rivlin, for his part, affirmed that agreements reached by the two countries' leaders and upcoming bilateral free trade agreement will lay down an important foundation for their businesses to enhance wide-ranging cooperation, towards lifting bilateral ties to a greater height.
Sharing his feeling about Vietnam during the trip, the Israeli leader said wonderful images of Vietnam will inspire more Israeli youths to come to the country, contributing to increasing bilateral economic, trade and tourism links.
Collaboration programmes in education will help the two countries' young generations and people bolster mutual understanding and solidarity and share experience in fields of shared concern, he said.
Taking note of the host's proposals, Rivlin stated that Israeli firms, especially those operating in the city, are ready to share experience and invest in start-ups in Vietnam.
Following the meeting, host and guest witnessed the signing of a Memorandum of Understanding (MoU) on a $200 million financial package in health care between Israel's Jasmine Group and Dat Vang Real Estate Investment Company.
Earlier, the Israeli President and his spouse visited a milch cow farm in Pham Van Hai commune, Binh Chanh district, which applies Israel's technological know-how, within the framework of the Dairy Demonstration and Experiment Farm project for 2012-2017.
In the afternoon the same day, host and guest attended the Vietnam-Israel business forum and witnessed the signing of a MoU on research and development cooperation between the Israel Innovation Authority and the National Technology Innovation Fund.
During his stay, Rivlin called on Nguyen Van Troi elementary school in District 4, Family Medical Practice clinic in District 1 and a social model of providing support for people with disabilities in Thao Dien ward, District 2.