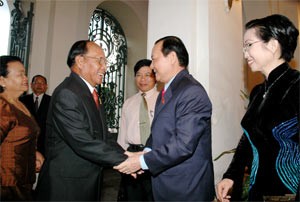 Mr. Le Thanh Hai (R) greets Mr. Heng Samrin at the Ho Chi Minh City Hall on July 10. (Photo: Viet Dung)
Ho Chi Minh City Party Secretary Le Thanh Hai and Cambodian National Assembly President Heng Samrin said during their July 10 talks in the city that they expect the two sides' friendship and cooperation to be further enhanced.
They also expressed their hope to consolidate the traditional friendship and continue long-term cooperation between the two countries in general, between Ho Chi Minh City and Phnom Penh in particular.
Mr. Hai and Mr. Heng Samrin discussed the political, economic and social situation in their countries
Mr. Hai said the exchange of visits by the two neighboring countries' leaders in recent years have contributed in promoting mutual understanding, strengthen and develop the friendship between Viet Nam and Cambodia.
The Party official added that the Cambodian Ambassador in Ha Noi and Cambodian Consulate General in Ho Chi Minh City have made substantial contributions to strengthening cooperation, trade and investment.
Mr. Hai said, "Ho Chi Minh City considers Phnom Penh a strategic and important partner. We expect that the Cambodian National Assembly President will always foster the traditional friendship and comprehensive co-operation between the two countries."
The Ho Chi Minh City Party chief and the Cambodian top legislator said they want the two countries to continue contributing to the strengthening of peace, stability, cooperation and development in Southeast Asia and the world.
Mr. Heng Samrin arrived in Ha Noi on July 6 for a six-day official visit to Viet Nam.