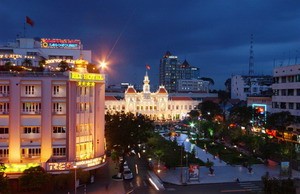 Ho Chi Minh City at night.
Some points in the master planning design for Ho Chi Minh City to 2025, approved by the Prime Minister in 1998, prove inappropriate and need to be adjusted.
Ho Chi Minh City People's Committee has just asked for approval to adjust the plan from the city's Party Committee.
In urban planning, the city's planning should be adjusted in the relation with Urban Areas to create the relation in construction connection, efficiency of infrastructure design, population density, and cooperation for the development of human resources.
In popupation, the city wants to keep the population of 10 million in 2010 and stabilize it to 2025, but the growth in the city center is limited to 7.4 million from 6 million.
In space extenstion, in addition to the extension of the city to the North and Northwest, a secondary extension is made to the West and Southwest.
The service center system develops in the direction of multi-centers but the North center of districts 12 and Hoc Mon is replaced with the service center of the Northwest Urban Center in districts Cu Chi and Hoc Mon.
Scientific and technological urban areas need to be built in District 9, Thu Duc District and Hiep Phuoc Port Urban Area built in Nha Be District. About 1,000 hectares in District 9, 7, Binh Chanh and Cu Chi District should be provided to universities, colleges, vocational schools and scientific research institutes.
Hi-tech medical research centers in the model of institute-university should be provided 100 hectares each. Industrial zones, hi-tech parks and industrial complexes, which are in the major industrial and hi-tech sectors, expect to be spared up to 9,000 hectares.
In technological infrastructure system, Sai Gon and Khanh Hoi Ports and Ba Son Shipyard have to be moved to Cat Lai, Hiep Phuoc, connecting to the regional Port Complex No.5. The traffic system in Ho Chi Minh City is expected to be improved.
Ho Chi Minh City People's Committee also proposes new points to be added the master plan, including long-term plan for developing Ho Chi Minh City into a industrial, service, scientific and technological center of the nation and Southeast Asia, drawing up town design standards, standarizing construction projects in Ho Chi Minh City.