Ho Chi Minh City should maintain its sustainable development and lead the country in the modernisation and industrialisation process in order to become a large economic, financial and trade centre, not only in Vietnam, but also in Southeast Asia.
The Politburo made the instruction while working with the Standing Board of HCM City Party Committee in Hanoi on August 12.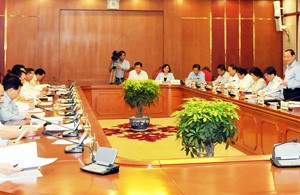 A view of the August 12 working session
Applauding the city's recent achievements, the Politburo also noted several of its shortcomings such as unsustainable economic growth, slow economic restructuring, low competitiveness, poor infrastructure and ineffective settlement of social and cultural matters.
Regarding the city's orientations and tasks for 2010-2015, the Politburo stated that as the country's largest urban centre and with its important political position, HCM City needs to fulfill its role of creating a momentum for other provinces and cities to grow
The city should mobilize all resources and make the best use of its potential and advantages for rapid, stable and sustainable development.
It should also serve as a bridge for effective cooperation with regional countries while becoming a civilized and modern socialist city and a key centre in Vietnam and Southeast Asia, the Politburo requested.
It asked the municipal authorities to work actively with ministries and central agencies to build and implement plans, mechanisms and policies as well as cooperate with other provinces and cities nationwide to create a connection and strength for mutual development.
The municipal authorities and people must actively and effectively struggle against hostile forces' schemes of sabotage to maintain political stability and social order, thus creating a favorable environment for the city's development, the Party elites stressed.
It requested the city to closely coordinate with ministries and central agencies to adopt measures to mobilize domestic and foreign resources for infrastructure development, especially transport, electricity and water supplies.
In the next five years, HCM City aims to attain an annual economic growth rate of more than 12 percent, 1.5 times higher than the country's average level, and a per-capita income of more than 4,800 USD by 2015.