HCM City will mobilise all possible resources for spending on anti-pollution measures and urban improvement to raise the quality of life as set out in a recent Party Committee resolution.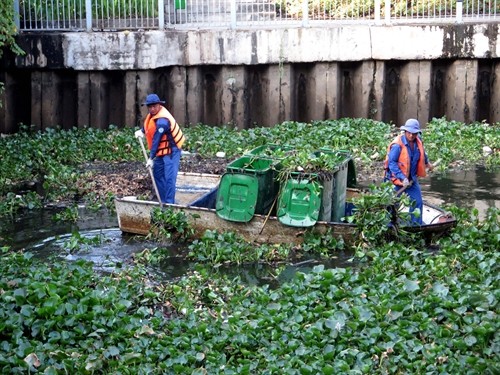 Environment staff clean up water hyacinth in the Nhiêu Lộc-Thị Nghè Canal. The biggest cleanup challenge is the polluted canal network and will require a large investment to be completed. — VNA/VNS Photo Hoàng Hải
In 2016-20 it targets collection and treatment of 100 per cent of industrial and medical liquid wastes and 90 per cent of industrial fumes and reduction of surface water pollution by 90 per cent and air pollution by 70 per cent in comparison with 2011.
It plans to continue monitoring and regulating 100 per cent of wastewater treatment systems at industrial parks, processing zones, high-tech parks and industrial clusters, and setting up automatic wastewater measurement stations directly linked to the Department of Natural Resources and Environment.
"To achieve these goals, the department has made some recommendations like increasing monitoring and tightening oversight of plants, factories and other sources of waste, severely penalising and shutting down polluting plants and moving out those not listed in the master plan," Nguyễn Toàn Thắng, the departments director told Nhân Dân (People) newspaper.
Factories and industrial parks which discharge over 1,000 cubic metres of wastewater a day must set up automatic measuring stations directly link to the department, he said.
Others would be encouraged to install automatic measurement equipment, he said.
Besides, the department has sought more investment in concentrated urban wastewater collection and treatment plants, more efficient canal dredging and improvement projects and education of local residents to improve their awareness of environmental protection.
This year the city's urban renovation and development programme would be speeded up with a series of measures like moving out and resettling people living along canals, building new apartments to replace decrepit ones and developing new residential areas and renovating several canals.
The resettlement work will start by moving out 1,832 households from canal banks at a cost of VNĐ3.75 trillion (US$168 million).
The canal cleanup will see the second stage of renovation of the Hàng Bàng Canal in districts 5 and 6, the Bầu Trân Canal in districts 6 and Tân Phú, and the Văn Thánh Canal in Bình Thạnh District.
"The city should offer incentives to attract investment into the difficult fight against pollution and urban development," Thắng said.
He said the city should call on various economic sectors to participate in urban renovation projects, speed up revocation of land allotted to stalled projects, amend the master plan in such cases to discover the actual value and consider all lands taken back in this manner to sell.
According to a department report, since 2002 the city has moved out or shut down or persuaded 1,402 companies to switch to non-polluting industries.
After 10 years of urban renovation and development, 36,000 households living along canal banks and in dilapidated apartments have gotten new lives and many residential areas have had their drainage, water supply and roads improved.
Many new urban areas have been developed.
Such encouraging achievements notwithstanding, Thắng admitted, the city has not been able to achieve all its goals in the period: Pollution control efforts have not been carried out well, data about sources of pollution is not accurate, changes in localities are not updated and it has been difficult to attract investment in waste treatment facilities in industrial clusters, leaving them unable to comply with Environment Law standards.
But the biggest challenge is the polluted canal network cleaning up which requires a huge sum.
The ambitious programme to clean up the canals cannot keep pace with the relentless increase in their pollution.
The city's two wastewater treatment plants, Bình Hưng Hòa and Bình Hưng, have a combined capacity of 171,000 cubic metres a day, or a mere 13 per cent of the total wastewater generated the city.
The rest has to be discharged in the canal system untreated.
As for solid waste, only 40 per cent is recycled.