Provinces and cities located along Dong Nai River valley need to intensify measures to protect the river as instructed by the Prime Minister, said Le Hoang Quan, Chairman of the People's Committee of Ho Chi Minh City on Friday.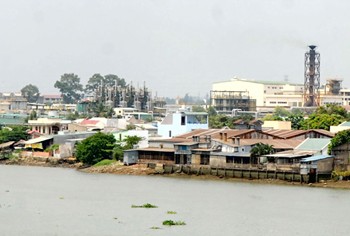 Wastewater from plants located along the Dong Nai River has worsened the quality of river water (Photo: SGGP)
Chairman Quan was speaking at a meeting of the Environment Protection Committee for Dong Nai River Valley to review results of the river valley protection project by 2020.
Mr. Quan, who is also chairman of the environment protection committee, said that water quality has improved after one year of implementation of the project by 11 provinces and cities situated along the Dong Nai River.
Authorities in these provinces and cities installed observation posts to detect levels of water pollution and firmly rejected any projects that would increase contamination of the river water, which is the lifeline for 18 million residents of the valley.
Speaking at the meeting, Nguyen Minh Quang, Minister of Natural Resources and Environment appreciated the efforts made by the environment committee to protect the Dong Nai River.
However, more measures need to be taken as the river still has many businesses located along the banks spewing toxic wastewater into the river, regardless of the harmful effects.
Protecting the Dong Nai River should be of primary importance for ministries, departments and local authorities, said the minister.