Chairman of Ho Chi Minh City People's Committee Le Hoang Quan committed to opening door to and creating favourable conditions for Hungarian businesses to invest in the city.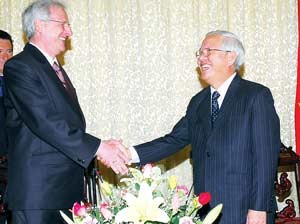 City Chairman Le Hoang Quan (R) greets Hungarian President Solyom Laszlo on Sunday (Photo: SGGP)
At a meeting with Hungarian President Solyom Laszlo in the city on May 18, Chairman Quan said that HCM City currently houses only two Hungarian investment projects with a combined capital of 3.5 million USD and representatives offices of three Hungarian companies. "The two sides should work hard to increase these figures in the near future," he added.
Quan hoped Hungarian businesses pay more attention to education, environmental protection and software industry.
President Laszlo said he was delighted at the good results of his visit, adding that agreements reached between the two countries would usher in a new stage of the two sides' cooperation.
Highlighting the 60-year-old friendship and cooperative ties between Hungary and Viet Nam, the President said he believed more than 2000 Vietnamese people who have been studied in Hungary would effectively help boost the valuable relationship, especially in the areas of economy and trade.
President Laszlo expressed his interest in investment in HCM City's infrastructure, environmental protection and water treatment. He also hoped that the stock exchanges of HCM City and Budapest would sign concrete cooperation accords.
The President laid stress on Hungary's role as a bridge for Viet Nam to Europe as well Viet Nam's role as a bridge for Hungary to enter the Asian market. He suggested that Viet Nam , in the position of a non-permanent member of UN Security Council, actively support Hungary to become a member of this body in the next term.
During his stay in HCM City, President Laszlo met with those Vietnamese who have studied and worked in Hungary.
Earlier in the morning, President Laszlo and his entourage laid a wreath and paid tribute to late President Ho Chi Minh at his Mausoleum in Ha Noi, and visited his house and office.