Following a media appeal for help for people in the storm-hit central region, donations in cash and kind have flowed in from organizations and individuals.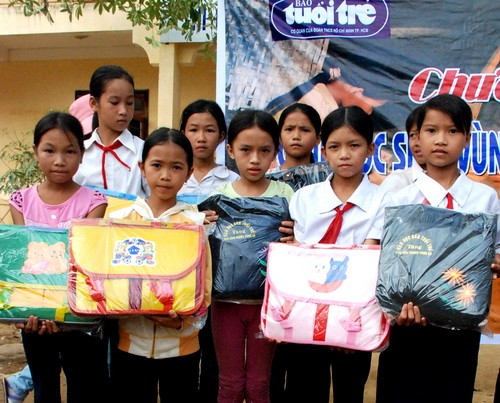 Students of Binh Minh Junior School in Binh Son District, Quang Ngai Province, received new school bags (Photo: Tuoi tre)
Duong Quan Ha, chairman of Ho Chi Minh City Fatherland Front Committee, received VND100 million (US$ 5,603) on October 8 from property developer Phu My Hung Joint Venture which had already donated VND52 million through media.
Since October 1, there have been contributions of more than VND7 billion in cash, rice, instant noodles, old clothes and cooking oil through the Front.
It has, in turn, given VND500 million to Thua Thien- Hue, VNĐ50 million each to Quang Nam and Quang Ngai, VND200 million to Binh Dinh and Phu Yen, and VND1 billion to the Central Highlands province of Kon Tum.
Petro Viet Nam Fertilizer and Chemical Company has called on its employees to contribute VND2.2 billion to people in flood areas, by each giving a day's salary.
A charity mission led by Tran Thanh Hai, deputy head of the Ho Chi Minh City Labor Association, called on people in Kon Tum and handed over VND30 million to Dinh Thi Ngoc Thu, chairwoman of the province's Labor Association, for assistance to employees.
Mr. Hai also gave VND120 million to Tran Binh Trong, chairman of the province Fatherland Front Committee.
The Thua Thien – Hue Fatherland Front Committee said October 8 it has raised around VND5 billion in cash and VND1 billion in kind. With the province's wells filled with floodwater, people are in need of fresh water, while dead cattle and poultry in some areas have polluted the local environment.
Outbreaks of widespread diarrhea eyesores and viruses, such as hand-foot-and-mouth and flu have been reported, adding to the problems of post-typhoon clean up. 
The Sai Gon Commercial Bank and Phuong Trang Company gave VND800 million to bereaved families in Da Nang.
The Quang Ngai People's Committee has decided to pay compensation of VND20 million -- 110 million to boat-owners whose vessels are lost or damaged.


Relief crews October 8 took 40 tons of rice, hundreds of boxes of instant noodles, clothes, blankets, drugs, and chemicals to treat water for victims in Tu Mo Rong district, one of the areas worst hit by the storm and landslides in the Central Highlands province of Kon Tum.

The Tu Mo Rong administration has evacuated more than 400 residents from Mo Banh village which was flattened by the flood to shelters.