The Steering Committee for Flood and Storm Prevention in Ho Chi Minh City on Tuesday sent an urgent dispatch to related departments and concerned districts warning of a high tide towards end of December.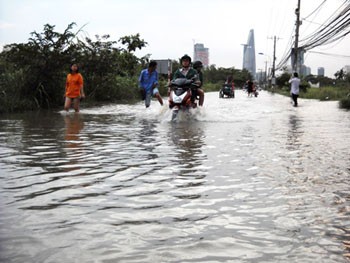 High tide flooded Luong Dinh Cua Street in District 2 of HCMC, end of November (Photo: SGGP)
According to the Southern Regional Hydro Meteorological Center, the highest tide will occur along the lower reaches of the Saigon River, raising water levels in canals across the city to alarming level 3 on December 24.
Forecasts predict tide levels will rise 1.48m at the Phu An Station on Saigon River and 1.50m at Nha Be Station on Dong Dien River, inundating some low-lying areas in the city.
The steering committee instructed related departments and district authorities to implement measures to prevent worsening conditions, particularly when it comes together with heavy rainfall.
The people's committees of Districts 12, Thu Duc, Binh Thanh, Go Vap, Cu Chi and Hoc Mon have been asked to examine and brace themselves in event of a surging high tide. Stacking of wood logs, bamboo stakes and sand bags should be made well in advance, should there be a breach in the dyke system.
The Steering Center for Urban Flood Control Program, the Department of Transport and other organs have been asked to work closely with districts to prevent long-lasting flooding from damaging farms and residential properties.