Education for Nature Vietnam is organizing two exhibitions raising awareness about illegal wildlife trafficking in Ho Chi Minh City and Hanoi Friday and Saturday, respectively.
The exhibits will be shown at Gia Dinh Park in HCMC and Hoa Binh Park in Hanoi from 5 to 8 p.m. and are part of a series of events being held in major cities in Vietnam this year.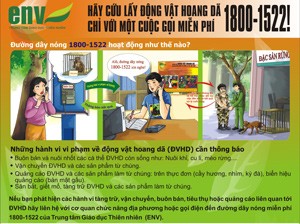 An Education for Nature Vietnam poster on the organization's free-of-charge hotline set up to protect wildlife
According to the organizer, the shows invite people to learn about the plight of endangered species and provide practical ways to become involved in protection efforts.

The exhibits include a video showing the condition of wildlife in Vietnam; a quiz on important issues discussed in the display, including wildlife farming and traditional medicine; and other activities that raise awareness on wildlife trafficking.

The displays also invite the public to join the cause against the trafficking of endangered wildlife by becoming part of the 3,000-member 'National Wildlife Protection Volunteer Network' under Education for Nature Vietnam, according to the organizer. The network allows the public to assist in efforts to monitor and report on wildlife crime.
The exhibitions get support from Asia's Regional Response to Endangered Species Trafficking Program, funded by the US Agency for International Development (USAID).
Education for Nature Vietnam was established in 2000 as a non-governmental organization focused on the conservation of nature and the environment.