By early afternoon on December 24, Christmas festivities were in full swing around churches and central areas in Ho Chi Minh City and Hanoi, where residents flocked to take in the spirit and atmosphere of the festive season.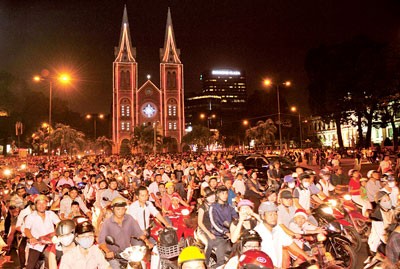 Crowds gather in front of Notre Dam Cathedral on Christmas Eve in District 1 in HCMC (Photo: SGGP)
Many young people dressed as Santa Claus prepared small and dainty presents at Hoa Hung Church on To Hien Thanh Street in District 10 to give away to children in poor residential areas who have no means to celebrate Christmas.
Santa Claus Pham Hoa Binh and Mai Nguyen Hong said that they had listed poor students, disabled and lonely elderly in Bac Hai, Nhieu Loc Canal and Cong Ba Xep areas in District 10, so as to visit and present them with gifts.
By late afternoon, Thong Nhat Street in Go Vap District was crowded with people who had come to enjoy the festivities.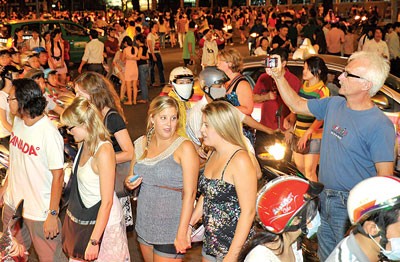 Foreign visitors enjoy Christmas in HCMC (Photo: SGGP)
Father Do Quang Tri in Mai Khoi Church in Ward 1 of District 5 said that over the last few days, residents have done a lot of meaningful work to help the poor, like giving them charitable houses and providing free meals at hospitals.
Pham The Hien Street in District 8, in front of Binh An and Binh Thai Parishes, was lit up by 6pm on December 24. Both sides of the street were decorated with hundreds of grottos, pine trees covered with snow and statues of Santa Claus, Jesus and the Virgin Mary.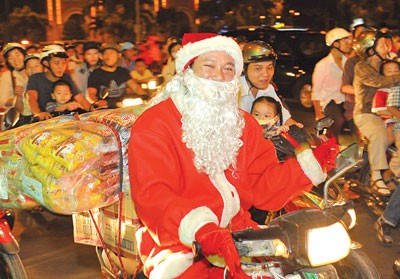 Santa Claus delivering presents to little children (Photo: SGGP)
People streamed onto roads leading to trade centers and amusement spots in the center of HCMC, making it impossible to move along several stretches of Tran Hung Dao, Vo Van Kiet, Nguyen Thi Minh Khai, Nam Ky Khoi Nghia, Le Duan, Ton Duc Thang and Le Loi Streets as people were trying to reach Notre Dam Cathedral before midnight.
 
In Hanoi, people flocked to the central areas to enjoy the Christmas atmosphere, with thousands surrounding Saint Joseph's Cathedral to wait for midnight mass.
 
Local authorities visited and gave presents to Christian dignitaries and followers and wished them a warm and peaceful Christmas. Cinemas screened 'Life of Pi', 'Breaking Dawn' and 'Mua He Lanh' (Cold Summer).
This year the maximum police force has been mobilized to ensure smooth traffic flow along several streets near churches in downtown Hanoi.