Up until now, around 62,654 landlords in Ho Chi Minh City have pledged not to increase their rents during the course of this year, particularly for workers, low-income people, and poor students.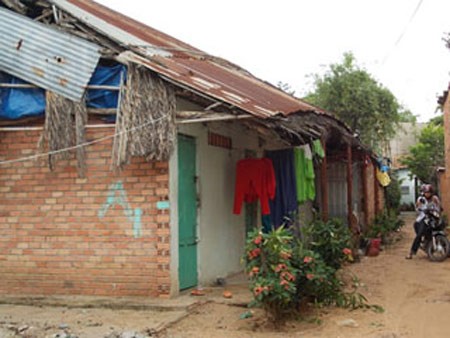 Some rented houses at the Vietnam National University in Ho Chi Minh City
Moreover, they are prepared to willingly provide financial support, for those in need, by not collecting electricity and water bills.
Le Gia Khoi, a landlord who has eight rooms for rent in Tan Thoi Nhat Ward of District 12, formerly collected VND2,000 per kWh (US$0.1) from his 32 tenants, who are all workers.
Knowing that the electric company has a special package for landlords to save electricity fee, he immediately signed up for it and agreed to reduce this fee for his tenants as soon as possible.
Similarly, Nguyen Thi Thu Thuy, a landlady with 16 rooms for rent, shared that at the moment she collected only VND600,000-800,000 per room rent per month (US$28.8-38.4) along with VND70,000 (US$3.36) per month for electricity.
Or as in the case of Tran Van Phuc, a landlord with 25 rooms for rent in Thoi Tu Hamlet in Thoi Tam Thon Commune of Hoc Mon District. Since signing a contract with Hoc Mon Electric Company for the special package for landlords, he has only collected VND1,400 per kWh (US$0.07).
Many landlords in Hoc Mon District also help their tenants by not collecting water bills.
According to the Ho Chi Minh City Power Corporation, the limit of electricity use is counted by each household, regardless of the number of people living in that house. Whenever there are more than one household sharing the same house, including tenants, customers need to notify local power companies to expand this limit.
Every four tenants, with valid documents from local government, can be considered as one new household and be given an extra limit.
Statistics from the HCMC Power Corporation also show that up until now, 8,430 households have already signed up for the package for low-income people, an increase of 1,499 compared to the time this package came into effect at the beginning of 2012.
The corporation is now managing around 62,404 files of landlords promising not to overcharge on electricity bills. The total numbers of tenants taking advantage of this program come to 1,124,343 factory workers, manual workers, and students, an increase of 22,731 people compared to the beginning of 2012.
According to Nguyen Van Ranh, head of the Municipal Party Mass Mobilization Committee, until July 27, approximately 62,654 landlords in Ho Chi Minh City had committed to keeping rent rates the same as that in 2011.