Senior leaders from Ho Chi Minh City paid a visit to the grave of Professor Giau in district Chau Thanh in Long An Province in the Mekong delta on September 11, on his 100th birth anniversary (September 19).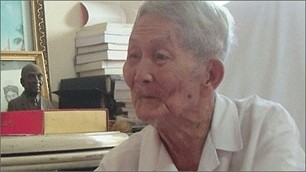 Professor Tran Van Giau
Le Thanh Hai, secretary of HCM City Party Committee; Nguyen Thi Thu Ha, Deputy-Secretary of the City Party Committee; Hua Ngoc Thuan, Deputy-Chairman of the City People's Committee; Nguyen Thi Quyet Tam, the city People's Council chairperson; Hua Ngoc Thuan, Deputy-Chairman of the City People's Committee; Truong Hoa Binh, Party Central Committee's Secretary cum chief judge of the People's Supreme Court, paid a visit to Professor Giau's grave in Long An province in the Mekong delta.
The delegation of leaders shared their memories of the historian and professor who was granted title of People's Educator and Labor Hero and who had made great contributions to the revolutionary uprising in Vietnam, particularly in the South.
Professor Giau has written more than 3,000 books on philosophy, history, culture and various other fields that are very informative for the young generation of today to study.
On this occasion, the People's Committee of Long An province inaugurated a library room in the province where people can read the writings of Professor Giau.
 
Do Huu Lam, Chairman of Long An People's Committee said that it is an honor for the province to remember Professor Giau and promised that the province would maintain and publicize the valuable writings of Professor Giau.