Speaking at a ceremony to mark Viet Nam's "Physicians' Day", Ho Chi Minh City People's Committee Chairman Le Hoang Quan had high praise for the health care sector's recent performance.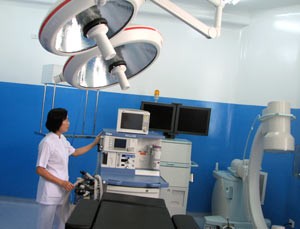 The advanced technology section of Binh Dan Hospital( Photo:T.C)
The Chairman also announced plans to construct specialized medical centers in HCMC that it is hoped will go a long way towards enhancing the quality of medical treatment there.
Referring to the many health care workers throughout the city, Nguyen The Dung, Director of the Ho Chi Minh City Department of Health, said that they had done an excellent job handling some difficult situations such as preventing a major outbreak of the bird flu from occurring.
Also of note were a reduction in the number of deaths attributed to petechial fever, the provision of free treatment for children under the age of six and the further development of advanced medical technologies.