Nguyen Van Dua, Vice Secretary of the Ho Chi Minh City Party, met workers at the Cultural House in Thu Duc District evening of January 8 to offer Tet greetings, gifts and free bus tickets for trips to their home province.
This is the first round of workers among 242,500 others that have been chosen to receive support from the city.
Ho Chi Minh City is stepping up its efforts to bring joy to poor workers ahead of the Tet Lunar New Year, which starts in about two weeks from now.
Le Thi Nhung, working at the Astro Company could not hide her joy when she was given a free bus ticket to her hometown in the central province of Quang Binh, saying that she had not gone home for the last 3 years.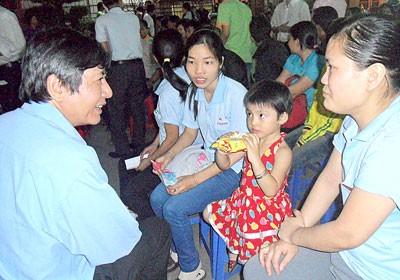 The HCMC Labor Union Vice Chairman Tran Thanh Hai (L) offers Tet greetings, gifts and free bus tickets to labors
When the HCMC Labor Union announced that it will grant free bus tickets to those disadvantaged workers who wished to return to their hometown to celebrate Tet with their families, she had registered and was chosen.
Nhung who has been living in HCMC for 3 years said that her low salary and high cost of bus fares made it impossible to go home for Tet. This was a dream come true. Thanks to the immense support offered by the city, she and her child had a chance to visit her family, while her husband would stay back in HCMC to do "additional" jobs to earn extra income.
Thanks to the gifts and care of local authorities, she can take her child to visit her parents and her poor family will have an adequate Tet, she said.
Phan Thi Lich, a female worker of Kollan, expressed her gratitude in tears when receiving the Tet gift: "I left my parents in the central province of Nghe An and have been working in HCMC for 10 years, but I managed to visit home in 2005 only. I got married in 2006 but my husband and I have not returned home even once. My parents asked us to come home for Tet, but my salary is barely enough for daily meals and living expenses."
Her husband from the central province of Thanh Hoa chose to earn extra money by collecting rubbish and has to remain in the city to work during the Tet holidays.
A low salary forces Nguyen Thi Thu Huyen, who came to HCMC 13 years ago from the central province of Quang Tri Province, to send back her son to her parents hometown for care while she continues working in the city.
One female worker working for DAEYUN Company in HCMC's Thu Duc District has not gone home for years, to see her son. She told reporters that she and her husband are trying to save money for their child.
Responsibility of supporting her son and her family also urged her to work harder and go onto the streets to work at jobs after working hours, to survive in the city.
"I don't want to go home without a cent of money or a present for my parents. In addition I can live in poverty, but I don't want my parents and my son in my hometown to live under harsh conditions," said Huyen.
She simply works at part-time jobs to earn enough money for bus tickets to go home for Tet. "But my husband and I cannot afford a ticket", she cried. At first, like many Tet in past years, her husband and she decided not to return home, as they had no money to do so.
The HCMC Labor Union has so far chosen around 242,500 needy workers, who have not returned to their hometown in the central and northern regions for many years, to receive grants of Tet gifts and free tickets, according to Nguyen Huy Can, Chairman of the Union.
The total support fund is VND 335.5 billion, an increase of 7 times in comparison to that in 2010. For those who will stay in the city, Nguyen Huy Can says, the centre will find part-time jobs and organize many celebrations for them during the Tet festive season.
On the occasion of Tet, the union will also present thousands of gifts to laid-off workers and migrant workers who will stay in the city during Tet. Further more, the HCMC Women's Union also has plans to provide 1,000 gifts to female workers and provide other assistance to them, especially those who are unable to return to their homes to celebrate the Lunar New Year festival.
On behalf of city leaders, Nguyen Van Dua, praised the efforts made by the workers who have greatly contributed to the prosperity of HCMC for the past years. He added that in 2011, the city's economy faced many difficulties, affecting living standards of most of the migrant laborers and causing some clashes between employers and employees in some enterprises.
However, he said, the money granted from the Labor Unions, though small, will help workers enjoy a simple but joyful Tet festival.
"Supporting employees with Tet gifts and free bus tickets shows that the HCMC Party and authorities care sincerely for all the poor workers", stated Dua.