Secretary of the Ho Chi Minh City Party Committee Dinh La Thang visited Sai Gon Giai Phong Newspaper this morning on the occasion of the 91st Vietnamese Revolutionary Journalism Day (June 21) falling on Tuesday.
Secretary Dinh La Thang talks to leaders of Sai Gon Giai Phong Newspaper (Photo: SGGP)
SGGP Newspaper has closely followed its guidelines and purposes, well conducted the city's political tasks affirming its roles as the voice and bridge of the city Party Committee, authorities and citizens.
Congratulating SGGP reporters and editors and their families on the Vietnamese Revolutionary Journalism Day, Mr.Thang appreciated highly the newspaper's achievements, which have significantly contributed to the general success of the city for the last years.
He also treasured continuous efforts by SGGP leaders and staff to reform and improve the newspaper's quality approaching a modern integrated electronic newsroom.
Amid the severe competition between traditional printing and online press agencies, SGGP have not only fulfilled its political tasks but also sustained the mechanism of financial autonomy and positively attended social and charitable activities, Mr. Thang added.
On behalf of the city Party Committee, authorities and citizens, Secretary Dinh La Thang recorded and thanked SGGP for its contributions to the city's development. The city Party Committee, People's Council and Committee, the Vietnamese Fatherland Front Committee will continue accompanying the newspaper in its development, he said.
 
He asked SGGP leaders to continue renewing operation, implementing the modern integrated electronic newsroom and improving the quality of publications to show citizens' thoughts and aspirations and meet requirements of the city's development cause.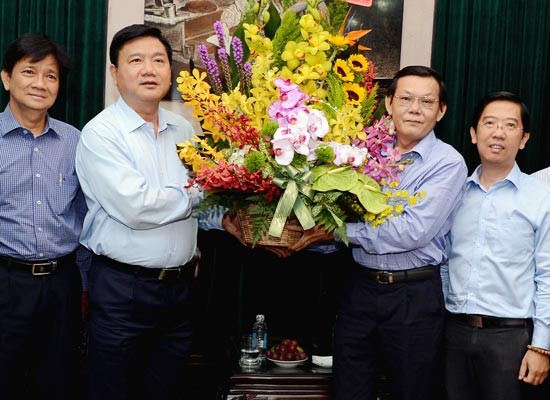 Secretary Dinh La Thang gives flowers to editor-in-chief of SGGP Nguyen Tan Phong (Photo: SGGP)
In the upcoming time, HCMC will conduct a huge volume of works to maintain the country's economic driving force and implement tasks assigned by the Party and state. Ideological and cultural front plays a very important role in the city's success.
Therefore, he asked SGGP to uphold its pioneer role in popularizing the city Party Committee and People's Committee's lines and policies and taking these policies to citizens throughout the country.
SGGP should be more drastic to commend good persons and deeds as well as condemn bad habits, positively attend in combating negative thoughts and actions, fight against corruption and attend in administrative reform and improvement of the city's competitiveness index, he proposed.
He prompted the Newspaper to focus on improving the quality of reporters and editors, building behavior standards and always making efforts to keep and develop the brand name of Sai Gon Giai Phong Newspaper-the largest Party Newspaper of the city.