Delegates from various businesses congregated in Ho Chi Minh City on August 30 to discuss revision of the current Labor Law in the city with the Committee for Social Issues under the National Assembly.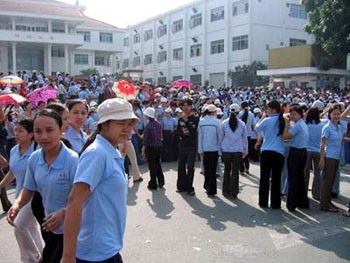 A strike in HCMC (Photo: VNN)
Many delegates were of the opinion that most of the labor strikes occurring in the city were due to disparities in the payment of salaries to workers.
As per the management committees of industrial and export processing zones, several businesses maintained formal ledgers on payrolls of workers for the benefit of government organizations. However in actual fact, the salaries paid to workers and staff members did not match those quoted in the company books and ledgers.
Several employees have been working for a long period of time, yet their service record is not taken into consideration, their salaries are not increased and even if they are, the salary grades do not match their rank at work. This has been the main reason of contention and cause of many strikes in recent years.
Despite misappropriation of salaries, companies maintaining false salary records have not been penalized and neither is there any law in place to do so.
Statistics from the Department of Labor, War Invalids and Social Affairs show that since last December to August this year, the city has faced 175 strikes, attended by nearly 4,000 workers.