The People's Committee of District 1 yesterday held a ceremony to release 475, 000 catfishes, carps and anabas into the Tau Hu- Ben Nghe Canal, which spans the section from Khanh Hoi Bridge to Nguyen Van Cu Bridge.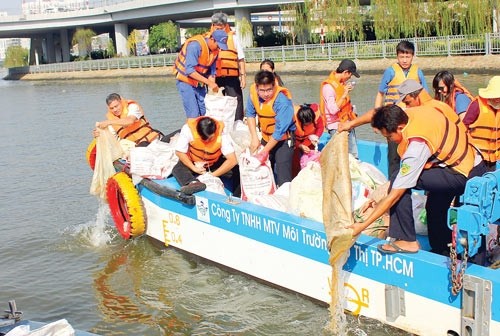 Crowded residents release fishes into Tau Hu- Ben Nghe Canal. (Photo:SGGP)
In the early morning yesterday, Deputy Chairman of HCMC People's Committee Tat Thanh Cang, leaders of departments, agencies and crowded residents attended in the event. At Cau Mong Park in district 1, they released 475,000 fishes into the Tau Hu-Ben Nghe Canal.
Releasing fishes is part of activities to raise environment protection awareness of residents and response the anniversary ceremony of Vietnam Fisheries Traditional Day on April 1, (1959- 2015).
In the 2013- 2014 period, HCMC released total 650,000 fishes into the Tau Hu-Ben Nghe Canal.
Earlier, Department of Aquatic Resource Protection and Quality Management in HCMC reported basing on result of water analysis that fishes can live in these canals.