Eight more people have tested positive for swine flu, taking the tally in Ho Chi Minh City to 188, Dr. Nguyen Van Chau, director of the city Department of Health, said on July 7.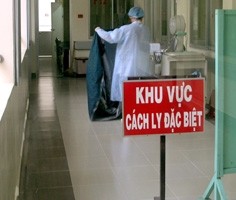 The quarantine ward in the city tropical Disease hospital
Four of them are foreigners and the other four are overseas Vietnamese.
One hundred forty three patients have been treated and discharged from hospitals.
A spokesman for the Ministry of Health, Dr. Nguyen Huy Nga, said 13 other swine-flu patients were discovered elsewhere in the country on the same day, taking the number of cases nationwide to 248. No deaths have been reported yet and people still in hospital are in stable condition.
The ministry continues to warn that people with flu symptoms like fever, cough, and sore throat should keep away from crowded and public places and report to the nearest medical center. It also reminds people not to take H1N1 patients to hospital by public transport.
There are no reports in Vietnam yet of the disease spreading among the general population.
On the same day the World Health Organization announced a total number of laboratory-confirmed cases of 94,512 in 135 countries and territories, including 429 deaths.
In Southeast Asia, the Philippines has reported 1,709 cases, including one death, Singapore has 1,055 cases, Thailand has 2,428 cases, including nine deaths, and Brunei has reported one death.