A 100-strong crowd of residents in Ho Chi Minh City's Binh Tan District gathered July 12 to protest against the terrible stench emanating from Hung Thai Brothers Leather Co. and demanded that the Vinh Loc Industrial Park-based firm closed down operations.
While the company claims it is not polluting the environment – a claim strongly endorsed by the environmental watchdog – local residents have organized two such demonstrations in the first two weeks of July.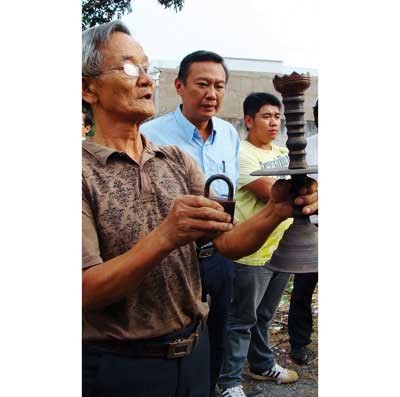 Residents living near Hung Thai Brothers Leather Co. in HCMC's Vinh Loc Industrial Park show objects in their home discolored by pollutants from the company and also complain of a stench from the plant (Photo: SGGP)
Since the company opened four months ago, the lives of 4,000 families living near the Park have changed dramatically.
Some of them produced locks, copper urns, and silver necklaces, and bracelets that have allegedly been discolored by chemical pollution. They also said elderly people and children have been suffering from severe respiratory ailments and painful eyes.
Ms. Nguyen Thi Lien, who lives at 60/8B lot 24, said: "At first we thought it was the stench of dead animals, but later we discovered it was from the company's waste-treatment plant."
He neighbor, Nguyen Thi Ngoc, has put up her house for sale. Fearing that her two children were inhaling a dangerous gas, she has sent them to relatives living in District 6. An owner of a nearby shop complained of a loss of tens of millions of dong because mobile phone sim cards have rusted.
Meanwhile, the Investment Commerce Fisheries Corporation (Incomfish) has made a formal complaint to the environmental regulator, saying the foul smell is affecting employees' morale.
After receiving residents' complaints, PC 36, the environmental police, inspectors from the Department of Natural Resources and Environment (DoNRE), the Ho Chi Minh City Export Processing and Industrial Zones Authority (Hepza), and local administration tested pollution levels.
They merely confirmed that the company is scrupulously implementing environmental protection measures.
Ngo Anh Tuan, the deputy head of Hepza, convened a meeting on July 6 with officials from other agencies to resolve the problem.
A representative from Hung Thai told the meeting that it has spent hundreds of billions of dong on sustainable development in the industrial park, but admitted that it had not treated the foul odor.
Mr. Tuan said people should petition the Ministry to improve pollution regulations.


Following an inspection on June 2, the environmental police discovered Hung Thai discharging effluents and sludge into the Cau Sa ditch. It ordered the company to destroy the pipe leading from its plant to the drainage system and slapped a fine of VND30.5 million.