Ho Chi Minh City has set a target to reduce landfill to 40 percent this year. However, 80 percent of waste in the city is still buried while the volume of garbage for advanced treatment technologies such as electric generation is very limited.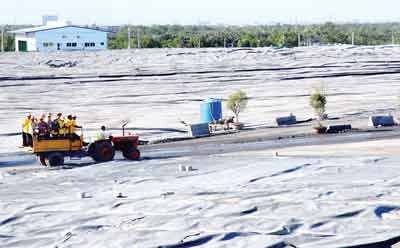 A view of Da Phuoc landfill site in HCMC (Photo: SGGP)
Mr. Nguyen Huy Hoan, deputy head of Science and Technology Department under the Ministry of Industry and Trade, said that HCMC discharged the most volume of waste in the country with about 8,000 tons a single day.
Eighty percent of these have been buried, causing a big waste because garbage is a recycling source in many nations.
Burning garbage for electricity generation not only creates a clean energy source but also reduces a large volume of waste at landfill sites, which might pollute underground water and surrounding environment.
Mr. Huynh Minh Nhut, director of HCMC Urban Environment Ltd Company, said that the company was able to invest in an energy-from-waste plant at a capacity of 1,000 tons a day. However the problem is that the city could not provide the plant with a stable source of waste to operate.
Mr. Pham Trung Truc, representative from the Energy General Directorate under the Ministry of Industry and Trade, stressed that 80 percent of nations in the world have applied the waste burning technology for energy.
In Vietnam, only few cities have been able to do so such as Hai Phong, HCMC and Hanoi. However their plant scale is very limited and inappropriate with the urban waste potential.
The main cause is from waste shortfall for the plants' operation, Mr. Truc added.
According to the directorate, Hanoi and HCMC discharge an average of 5,000- 8,000 tons of waste a day. If they continue burying these, there will not have enough room for landfill.
However, local authorities have been hesitated to answer investors about long term garbage source for energy-from-waste plants.