Le Thanh Hai, Secretary of the Ho Chi Minh City Party Committee, currently on a high level visit to India, met with Mr. K. Sankaranarayanan, Governor of Maharashtra State, for investment cooperation between the two countries.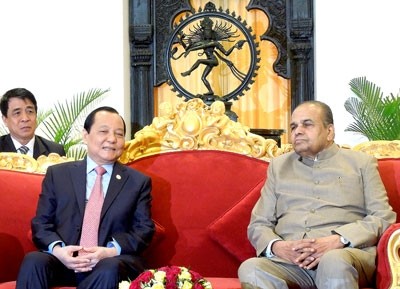 Secretary of the Ho Chi Minh City Party Committee Le Thanh Hai (L)
At the meeting, Mr. Hai appreciated the experience of Maharashtra State in mobilizing capital for infrastructure development through public private partnerships.
The purpose of the visit by the high level Vietnamese delegation is to exchange ways to strengthen cooperation with the local regional states in India, including Maharashtra State and Mumbai city--the largest economic hub of India.
Vietnam supports the organization of business forums, commodity fairs, enterprises and products of HCMC and Maharashtra. HCMC authorities wish to establish a relationship with Mumbai city, as a foundation for the development of projects in various fields in the future.
Mr. Sankaranarayanan welcomed the visiting delegation. He hoped that this would cement the long-standing traditional relationship between India and Vietnam. "Currently, the strategic partnership between the two countries is growing very strong in various fields, and more needs to be done to tap further potential for growth and development between the two countries", he added.
On the same day, the delegation held a meeting with the Chamber of Commerce and Industry, India-Viet (IVCCI). On this occasion, the Investment Division and Trade Promotion Centre in Ho Chi Minh City (ITPC) and the Department of Trade and Industry of India-Mumbai Vietnam signed a cooperation agreement between the two nations.  
According to the agreement, ITPC and IVCCI will exchange trade and investment promotion delegations, provide information related to business activities, hold trade and investment workshops, trade fairs, exhibitions and events, in the two countries.
Speaking at the meeting, Mr. Hai believed that under this agreement, the two countries can set a target of a two-way trade turnover to touch US$7 billion by 2015.
"The signing of a cooperation agreement between ITPC and IVCCI will help strengthen trade partnership in the future", said Mr. Hai.
The Vietnamese delegation left Mumbai on the same day for a two day visit to Singapore, from March 19-20.