Chairman of the People's Committee of Ho Chi Minh City Le Hoang Quan had a meeting with Icelandic President Ólafur Ragnar Grímsson and his high- ranking delegation at Reunification Hall in HCMC yesterday evening.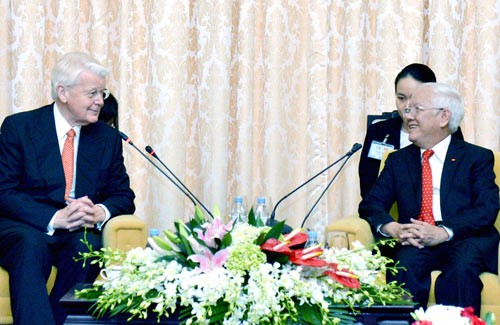 Chairman of HCMC People's Committee Le Hoang Quan (R) welcomes Iceland President at Reunification Hall.
Mr. Le Hoang Quan appreciated Icelandic delegation's visit; and proposed Iceland should open up early its trade offices in Ho Chi Minh City.
The chairman hoped that two countries would have new cooperative opportunities in the fields of exploiting and using seafood, power reproduction and high technology in the upcoming times
He also expressed his hope that the Icelandic President would support as well as urge early Free Trade Agreement negotiation and sign Vietnam and European Free Trade Association (EFTA).
City's leaders have always created favorable conditions to support Vietnamese enterprises cooperate easily with Icelandic businessmen, added Mr. Le Hoang Quan.
Mr. Ólafur Ragnar Grímsson said: 'The visit aims to tighten cooperation relations between Vietnam and Iceland in general and between Ho Chi Minh City and Iceland in particular'. 
With strength of applying high technology methods for the country's economy development, Iceland desires to share its working experiences with Vietnam.
Ho Chi Minh City can cooperation with partners of Iceland in the fields of high technology, food progress, power reproduction and others, stressed Mr. Ólafur Ragnar Grímsson.
On the same day, the HCMC People's Committee Chairman Le Hoang Quan had another meeting with the Belgian Senate President Christine Defraigne.
Mr. Le Hoang Quan said: "Trade turnover between Ho Chi Minh City and Belgium valued at US$ 470 million in the first nine months of the year. Last year trade turnover between two countries reached at US$ 414 million. Belgium loaned ODA capital for dredging Soai Rap River.
The Belgian Senate President will call for Belgian businessmen for strengthening their investment into Vietnam in general and in Ho Chi Minh City in particular. Besides, the country will continue to provide scholarships for Vietnamese postgraduates, said Mr. Christine Defraigne.