Deputy Chairman of the Ho Chi Minh City People's Committee Le Thanh Liem yesterday discussed saltwater influx in the city and the solutions of dealing the situation.
 
The HCMC Department of Agriculture and Rural Development reported that this year's the salinity has reach new high level; particularly, the salinity level on Nha Be – Dong Nai River, Sai Gon River and local rivers in rural districts such as Binh Chanh, district 9 reached at 13, 67 percent on March 8- 14, an increase of 9, 04 percent compared to the same period last year.
 
If it doesn't rain this month the city doesn't have enough water for daily use and irrigation in the dry season.
 
Therefore, the Department of Agriculture and Rural Development asked the district people's committees to store fresh water and closely keep watching on water source at lakes, streams and low zones in order to ensure enough water resource for farmers in summer –autumn crop as well as their living conditions.

Besides, the local authority needs to not only instruct local residents to dig wells and repair irrigation systems, and often control rural irrigational works but also collaborate closely with Dau Tieng- Phuoc Hoa Irrigation Exploitation Company to provide mandatory watering schedule.
 
Department of Agriculture and Rural Development suggested the People's Committee of HCMC to direct the agricultural land districts to take necessary measures for dealing with drought and saltwater influx in this year's dry season.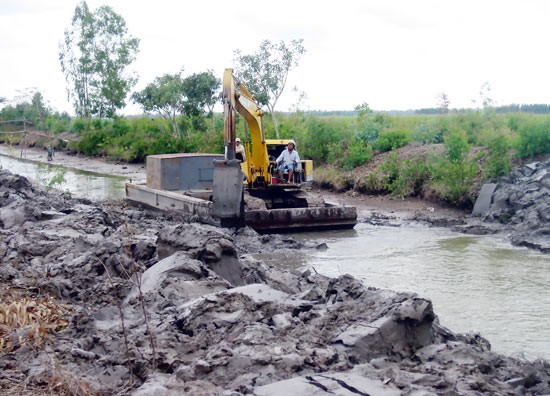 Local residents have to dig and repair irrigation systems to lead water for agricultural crop. (Photo: SGGP)
With the bad weather condition, the HCMC People's Committee approved upgrading irrigational works and building new ones, such as Hoc Mon- Bac Binh Chanh irrigational system, Cu Chi Eastern canal, the water regulation reservoir Ben Muong-Lang The in Cu Chi with the aiming of keeping water for dry season.
 
At the working session, Mr. Le Thanh Liem required departments and agencies collaborated closely with the Ministry of Agriculture and Rural Development in providing latest information to actively cope with the climate change.
 
The Sai Gon Water Supply Company (Sawaco) and the HCMC Department of Transport need to set up plans as well as methods to lead fresh water directly from Dau Tieng Water Reservoir to Tan Hiep Water Plant to avoid water loss.