Nine traditional craft villages in HCM City will be preserved and developed under a city programme that will last until 2015.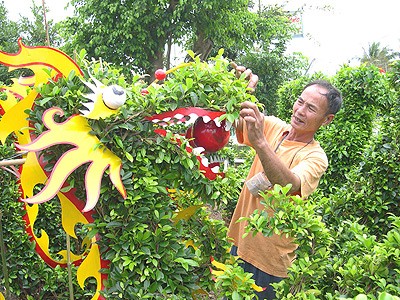 the craft villages will be developed with assistance in promoting markets at home and abroad
The assessment made for the programme is that four of them do not have capability to develop on their own and needs government support.
They are Thai My village that makes bamboo baskets, chairs, tables, and others in Cu Chi District, Xuan Thoi Son in Hoc Mon District which produces bamboo baskets, Le Minh Xuan in Binh Chanh District which produces incense, and Ly Son village in Can Gio District that makes salt.
The other four existing ones, which can develop independently and sustainably, are Xuan – An – Loc flower and ornamental tree village in District 12, Thu Duc flower and ornamental tree village in Thu Duc District, Tan Thong Hoi in Cu Chi District that produces bamboo screens, and Phu Hoa Dong also in Cu Chi that produces rice paper.
One village is planned to be built on an area of 10-15ha in the Cu Chi Plant Garden along the Dong Canal to breed ornamental fish and offer tourism services.
The programme also aims at environmental protection and promoting traditional values.
The city government will help the villages develop infrastructure, train human resources, and use technology for production and protecting the environment.
The villages will also be provided with assistance in researching and promoting markets at home and abroad.
The city has solicited investment from all sources for preserving the villages, especially those are tourism attractions.
The city has 19 craft villages that employ 14,241 people earning an average of VND38.9 million (US$1,800) a year, according to the Sub-department of Rural Development.
Some salt and rice paper producing villages hire up to 60 per cent of local residents.
But the development of the city's craft villages remains unplanned and they continue to use backward technologies and equipment.
More than 80 per cent of craftsmen do not have the resources to improve the technologies they use or expand production.
The designs and packaging of products made in these villages lack sophistication, affecting their competitiveness.
Almost 70 per cent of the heads of households making the products lack formal training and managerial skills. Only 2.6 per cent of them have a university degree.
The villages have also failed to tackle the pollution they cause