Ho Chi Minh City has signed an agreement with the highland province of Lam Dong, the Mekong delta provinces of Tien Giang, Long An, and the southern province of Tay Ninh for the supply of more than 50 per cent of their produce of safe vegetables and fruits to the city.
In the past,  the HCMC Department of Agriculture and Rural Development faced immense problems of acute food poisoning incidents after consumption of insecticide contaminated fruits and vegetables.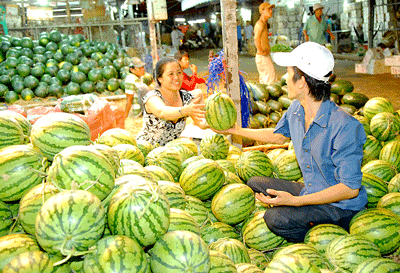 Agricultural produces from provinces sells through wholesale markets in HCMC ( Photo: SGGP)
The department will now work with its counterparts in other provinces to crack down on excessive use of insecticides, and instruct and support fruit and vegetable  growing establishments to strictly adhere to requirements set by the department for cultivating safe crops. 
The department's agriculture staff and their counterparts in the three provinces will closely monitor production and processing of fruits and vegetables on farms and proffer advice on use of pesticides and fertilizers in safe proportions.
In addition, the plan to grow and market safe fruits and vegetables has interested nearly 5,000 farmers in suburban districts, who are cultivating over a 2,800 hectare area, said Nguyen Van Duc Tien, head of the Department of Plant Protection. Many cooperatives in suburban districts provide more than 250 tons of safely cultivated   cabbages to the city.
Regular monitoring is conducted on fields and at wholesale markets   or supermarkets to help farmers' change growing practices and minimise use of insecticides and chemical fertilizers. Farmers are gradually becoming aware of the damaging effects of chemical fertilizers on human health.
The City will work with wholesale markets and supermarkets to promote consumption of certified fruits and vegetable produced by establishments in the three provinces. These certified fruits and vegetables will get top priority to enter the three wholesale markets of Hoc Mon, Binh Dien and Thu Duc, and other supermarkets   in HCMC; whereas uncertified produce will have to undergo at least a two hour wait for quality check.
A manager of Binh Dien Market said that besides price and quality, customers usually pay heed to food safety and hygiene.
Thanks to certified safe vegetables and fruits, the pressure to check produce during the wee hours of the night will be greatly reduced, as produce arrives in markets only at nights.
However, market managers and inspectors from the plant protection bureau sometimes conduct random checks on consignments of safe vegetables and fruits.
According to Tien, the program of buying safe vegetables from three new provinces will begin this September and the city will buy more than 80 percent of produce to stock its markets.
Le Thanh Liem,  director of the Department of Agriculture and Rural Development, said the cooperation agreement to buy safe vegetables and fruit will  ensure food safety and hygiene, and will help the city to implement safe agricultural practices as desired by the Prime Minister.