Members of the Ho Chi Minh City Women Entrepreneur Club are always ready to set off on charity tours to distant and difficult regions despite their grueling personal schedule.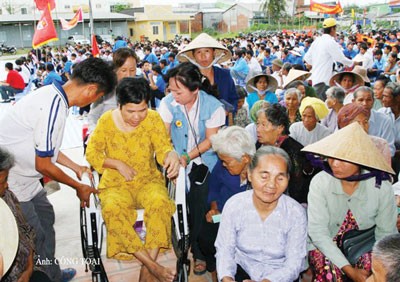 Residents in Chau Thanh District, Soc Trang Province, await their turn to be examined by doctors who accompanied a charity group from the Ho Chi Minh City Women Entrepreneur Club on Feb 28. (Photo: SGGP)
One such team that also included members of Sai Gon Giai Phong's Mai Vang team set out on February 28 for Chau Thanh District in the Mekong Delta province of Soc Trang.
It is a newly created and poor district where a majority belongs to the Khmer ethnic group.
Besides providing free medicines and medical examinations, the team also donated houses to four poor families and 70 scholarships worth VND500,000 each.
Despite their tiredness after a long journey, the samaritans set to work as soon as they arrived. Some distributed drugs, others instructed people on the dosage, and doctors began their examinations. In two hours they examined 300 people.
Dr. Dai Phi Van from Trieu An hospital and his cousin felt sorry for some of the people who suffer serious diseases but cannot afford to go to a hospital. Some have terminal cancer or a prolapsed uterus but still work in the field to earn a living. The doctors advised them to get treated at urban hospitals, giving them money for the purpose.
Some of the team members were moved by children who were happy and smiling to receive their donations. The tiny, tanned children opened the envelops immediately to see how much money there was inside. The local people were also moved to receive the presents from the visitors.
For years the 1,500-member club has done charity to support the community. They have distributed drugs and examined people, performed surgeries, built education facilities, clinics, and houses for the needy, and provided scholarships to poor students around the country.