With many companies in HCM City, including foreign-owned, not paying wages for several months, thousands of workers have sought help from authorities, a labor official has said.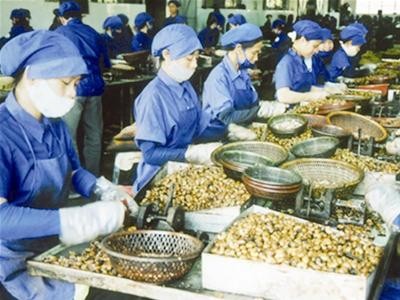 Workers process cashew nuts for export at a factory 

Nguyen Thi Dan, head of the Labor, Salary and Wage Office under the city's Department of Labor, War Invalids and Social Affairs, said the global economic woes and inflation in Viet Nam have badly hit firms recently, causing them to default on payment of wages, social security premiums, and others.
Many workers have gone on protest at the delays, she said.
At Quang Sung Vina Co., for instance, 200 workers went on strike after the Korean director fled Viet Nam, leaving behind more than VND500 million (US$30,000) in unpaid wages.
The city's Foreign Affairs Department has sought the Korean consulate's help to get him back.
Two years ago the director of HaiMin VN, another Korean company based in Hoc Mon district, disappeared without paying salaries, social security premiums, and tax to the extent of VND3.4 billion (US$204,000). The workers never received their money.
Out of the 525 Korean companies based in the city, only around half comply with labor regulations while 87 companies owe VND42 billion (US$2.52 million) in back social security premiums.
Unemployment Risk

Workers also face the risk of unemployment due to layoffs by companies making losses, adopting new technologies, or undergoing ownership change.
Last month more than 400 workers at Leaprodexim Saigon, an importer and exporter of leather and shoes, were shocked to hear the company was closing down because of a serious lack of orders caused by a new EU anti-dumping tax.
Ms. Dan said official agencies should jointly work out ways to protect workers' interests.
For instance, she said, oversight of companies should be strengthened to promptly detect signs of instability.
Nguyen Dai Dong, head of the Ministry of Labor, War Invalids and Social Affairs' Employment Development Department, said workers are waiting for an unemployment insurance policy.
This policy, to take effect on January 1, 2009, would provide financial support to those without jobs, he said.