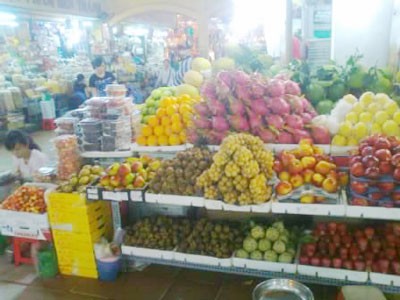 Prices of food and restaurant service rise in February (Photo: A. Quan)
Ho Chi Minh City's February Consumer Price Index (CPI) increased 1 percent in February and 1.44 per cent over twon monhths, reported to the General

Before the Lunar New Year took pace in February, GSO announced the price of food and restaurant services would rise. According to the General Statistics Office, the Government and relevant agencies should have planned policies to assist enterprises and local authorities to ensure supply of vital goods to curb a CPI increase in March.
However, thanks to the price stabilizing program, prices of food and food-related services in February increased 1.42 per cent. Contributing to the rise of CPI was transportation that increased 1.35 per cent because of an increase in travel on tet holidays; Prices for beverage and tobacco rose 3.34 per cent and other goods and prices for services - 1.45 per cent.

Commodity baskets with great purchasing power merely witnessed moderate rises; the index for garments and footwear rose 0.7 per cent. Price increases were also reported for postal and telecommunication services that moved up 0.01 per cent. houses furnisfing and building materials increased only 0.32 percent.
Apart from that, medicines and medical services stood in place.