Electricity consumption in Ho Chi Minh City (HCMC) has suddenly increased, some day to 36.5 million kWh, highest since the early dry season (normally 33 million kWh), due to the hot weather. Also in this time, power blackouts have unexpectedly occurred in some areas.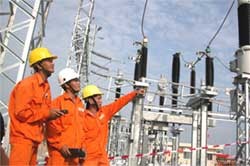 There is still sufficient power supply for the city residents.
Director of Information Operation Center Vo Thanh Nang, under HCMC Power Co., said power supply has still been enough for everyday activities and production. Power cut was for periodic repair and maintenance. Sudden power cut in some areas in the past days was due to technical breakdown in the repair process.
Director of the South Electricity Grid Monitoring Center Pham Minh Luong said electricity consumption has increased rather dramatically these days but the electricity supply is still sufficient. South Viet Nam transfers about 20 million kWh per day to the North.
Electricity may not be in shortage in this summer
However, with the current weather pattern in the North (usually rain in the afternoon) and electricity saving policies are in place, electricity may not be in shortage this summer, according to Deputy Director General of the Electricity of Viet Nam (EVN) Dinh Quang Tri.
At the same period last year, severe drought caused shortage of power, so EVN had to resort to cutting power in a roster. Water at lakes is about 10 meters higher than that of last year.
Mr. Tri added if the weather in June is the as same as present and the call for power saving works well, pressure on power supply will be lessened and power cut policies might not be used.
New gas-fired power plant will be built in Ho Chi Minh city
The Ho Chi Minh City People's Committee and SembCorp Utilities Pte., Ltd (Singapore) signed a Memorandum on building a power plant under the BOT (build-operate-transfer) model on May 11.
Accordingly, the 700 MW gas-fired power plant will be built with an investment capital of US$400-450 million in Hiep Phuoc Industrial Park, Nha Be Province (double the size of Tri An Plant).
The plant is expected to go into operation after two years/ construction to supply power to Sai Gon South and join the 500 kV line.