In a talk with Saigon Giai Phong Newspaper, Tran Van Thanh, the Acting Head of Yok Don National Park, threatened to resign if the Drang Phok Hydropower Plant is built.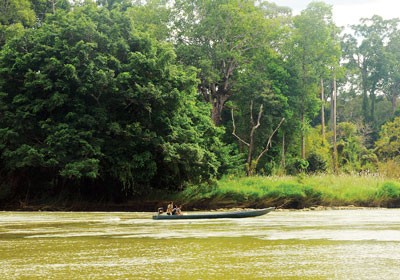 A corner of Yok Don National Park (Photo: SGGP)
The Department of Industry and Trade in the central highland province of Dak Lak on September 9 proposed to senior leaders to allow the investor to resume building of the Drang Phok Hydropower Plant on the Srepok River in Buon Don District in Dak Lak Province, as the construction is already 14 months behind schedule.
According to a report, the 28MW Hydropower Plant would need to clear 295.4 hectares of the National Park, including 28.88 hectares of forestland.
Tran Van Thanh said he has rejected the project many times in meetings with Dak Lak Province leaders, and has threatened resigning from office if the project is given the green light.
According to Thanh, the construction of the Drang Phok Hydropower Plant will certainly have a negative impact on the Yok Don National Park, a lush forested area and home to a diverse species of flora and fauna.
First of all, Thanh said, the plant will destroy more than 59 hectares of protected forest and dynamite explosions during the construction of the plant will cause environmental pollution and drive wild animals away.
The Hydropower Plant will also block the present current of the Srepok River and affect the living environment of aquatic species here, he said. Furthermore, in the long term the Hydropower Plant will leave a heavy and detrimental burden on the forest.
Thanh rejected related agencies supposition that the area for the construction is lying in poor natural forest; saying that actually Yok Don National Park is a deciduous forest and the country shouldn't exchange valuable forest for energy.
Thanh pointed out that the Department of Industry and Trade has not been honest in its project report as the plant will clear upto 59 hectares of forest, while the department announced only 28.88 hectares.
http://www.saigon-gpdaily.com.vn/nature/environment/2012/12/103654/