Vietnam's Ministry of Health and the World Health Organization (WHO) November 24 opened the first of three regional workshops to disseminate an important new set of guidelines on infection control in the country's hospitals and clinics.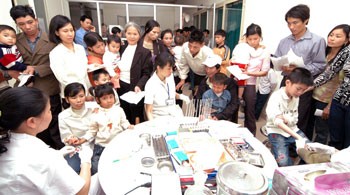 The National Pediatrics hospital is overloaded with patients. MoH tries its best to make healthcare services safer for all patients ( Photo: SGGP)
Following deliberations on the new guidelines, health officials will develop provincial implementation plans, which will take effect on December 1, 2009. 
The workshops will promote the circular, recently approved by the ministry, which outlines measures to make healthcare services safer for all patients, staff and visitors. It also designates responsibilities to all healthcare departments, workers and providers to reduce hospital-acquired infections in public and private healthcare facilities in Vietnam.
The two-day workshops, sponsored by the US Agency for International Development (USAID), will take place in the central city of Hue (November 24-25), Ho Chi Minh City (November 27-28), and Hanoi (November 30 - December 1).
For more than 10 years, the ministry has worked to develop a national infection control program, beginning with its first infection control regulations in 1997. To ensure that the regulations remain relevant and consistent with evidence-based research, the guidelines are periodically updated with assistance from the WHO.
The circular is a landmark achievement, says the Ministry of Health, in their effort to improve the national capacity for infection control.
"We recognize that hospital-acquired infections are one of the leading causes for the steep increase in disease and hospital costs due to prolonged hospital stays and excessive antibiotic use for patients," said Mr. Pham Duc Muc, vice director of the Administration of Medical Services .
"This circular is an important document which consolidates the basis for organization, implementation and application of the general regulations on infection control in healthcare facilities," Mr. Muc added.