The Ministry of Health has drawn up a draft strategy for blood donation in the 2009-15 period and is collecting public opinion about it, Dr. Nguyen Anh Tri, director of the Institute of Hematology and Blood Transfusion, said on August 23.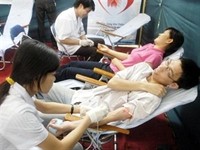 Nearly 500 youth union members in Hanoi registered to donate blood to mark Voluntary Blood Donation Day on April 7.
The strategy seeks to heighten awareness of voluntary blood donation and blood transfusion safety and aims to ensure to adequate supply of safe blood and blood products to meet emergency and treatment needs.
It expects to get 1 percent of the population to donate blood by 2015 and 1.5 percent until 2020 so that the practice of buying blood can be stopped, Dr. Tri said.
The ministry has begun a program to build a national blood transfusion system.