Two health teams from the Preventive Health Department and the Department of Health were sent to the mountainous village of Nam Tra My in the province of Quang Nam on March 28 to investigate the death of 13 children over the past two months, provide antibiotics for respiratory infection and sanitize the village.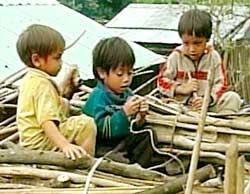 Weak children in the village live in poor hygiene 
The children, aged 1 to 6 years old, died after displaying cold-like symptoms for 5 to 10 days along with dry coughing, vomiting blood, and diarrhea.
The health mission Wednesday reported the results of the investigation to the district's People Committee.
According to Doctor Nguyen Nhu Chinh, Vice Director of Quang Nam's Provincial Health Department, the children had died of pneumonia and diarrhea.
In addition, sub-standard medical facilities, poor hygiene and low public awareness likely also played a major role.
Dr. Chinh added that although the number of resident fatalities is high, the deaths were due to common causes as opposed to diseases of an epidemic or unusual nature as some people had believed.
He added that the Health Department will provide villagers with health insurance in the second quarter.
"Medical workers must be sent to mountainous areas to keep a close watch on the spread of disease there and medical services need to be made available so that villagers can receive timely treatment." said the Tra My District People's Committee Vice Chairman Nguyen Van Dien.